These Sweet and Spicy Holiday Nuts are a blend of rosemary, cayenne and brown sugar for a holiday appetizer that loves to hang out all by itself or maybe with the cheese platter, a fun holiday cocktail or a cold beer. Add dried cranberries for a sweet and tart contrast.
After all my energy is exhausted making holiday treats, these mixed nuts are my go-to savory offering. The brown sugar is minimal with the rosemary and spicy cayenne balancing it out just enough to confuse your taste buds – is it sweet, salty or spicy or all three!
---
How to Make Holiday Nuts
STEP 1: Roast Nuts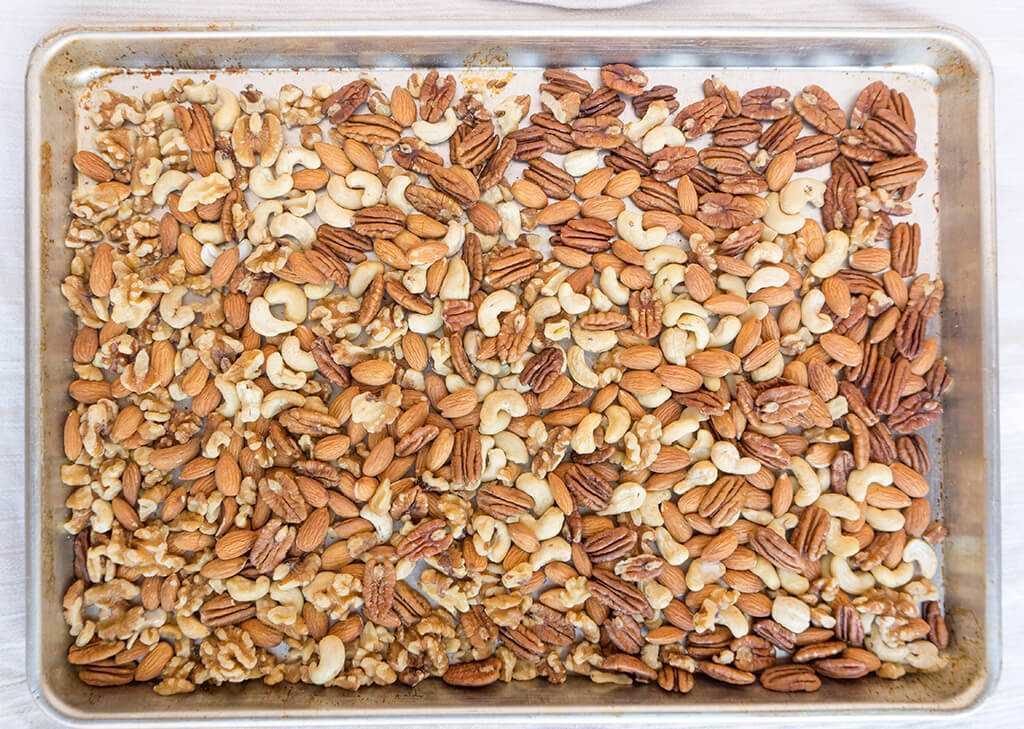 ---
STEP 2: Mix Coating Ingredients on Stovetop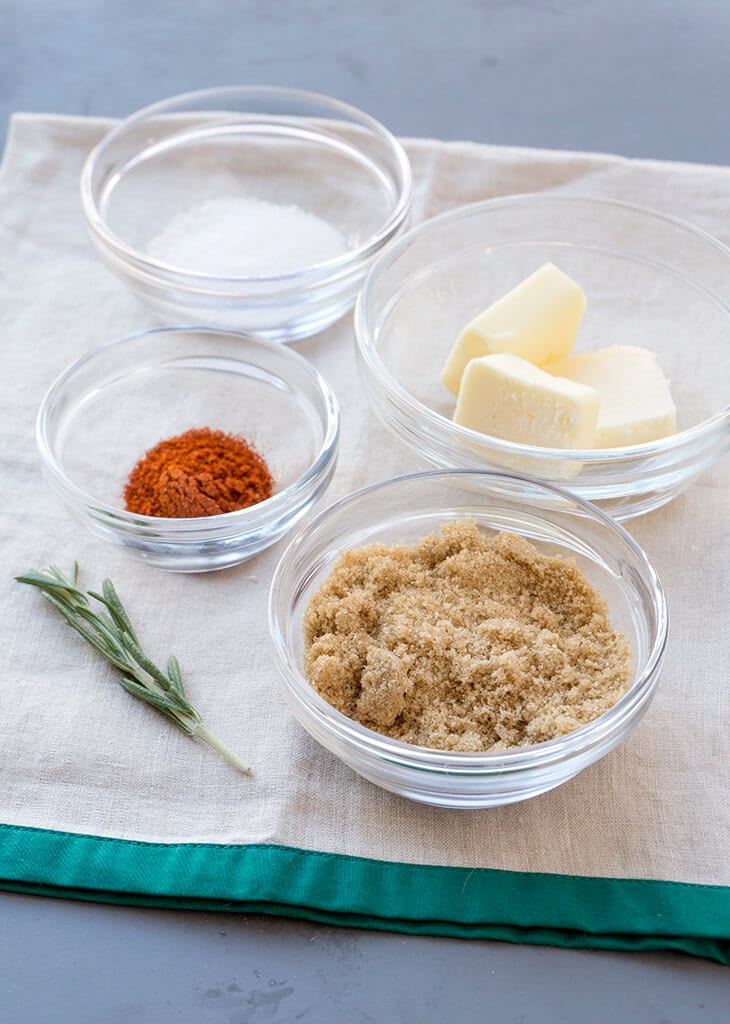 While the nuts are roasting, the coating comes together in minutes on the stove top.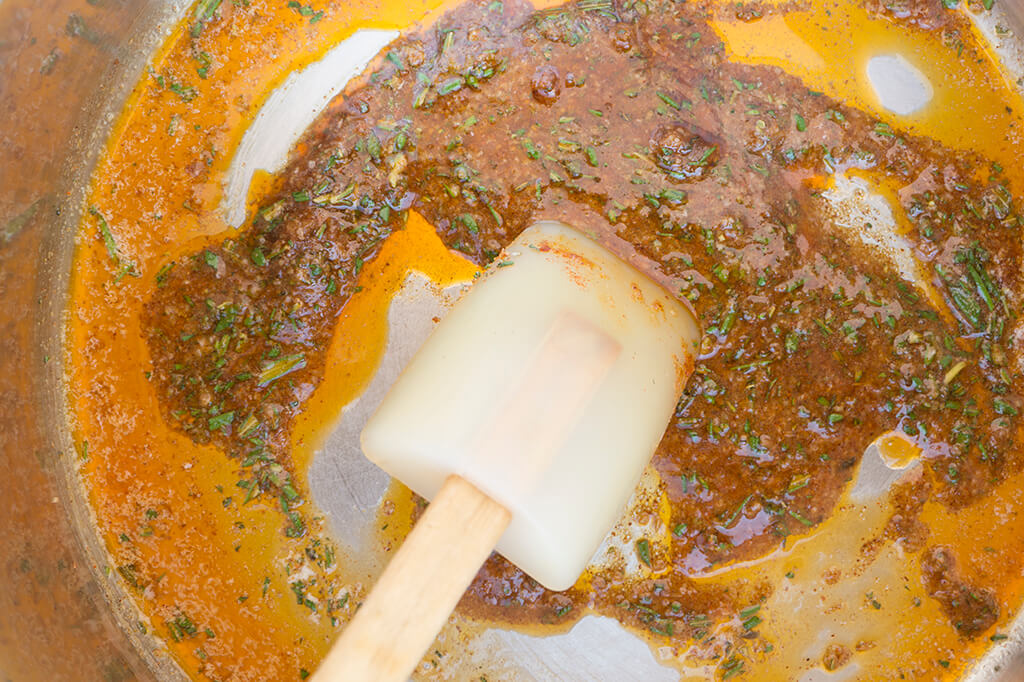 ---
STEP 3: Mix Roasted Nuts with Coating
The nuts go straight from the oven to the stove top for mixing.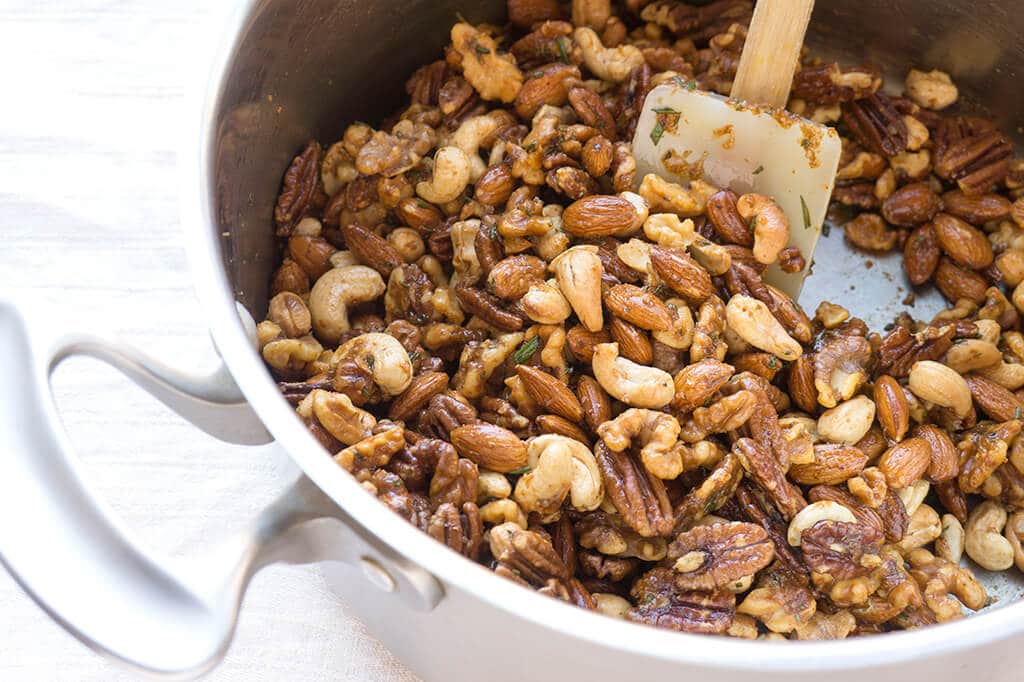 ---
STEP 4: Allow Nuts to Cool
Spread the nuts back out on a sheet pan lined with parchment or wax paper to cool.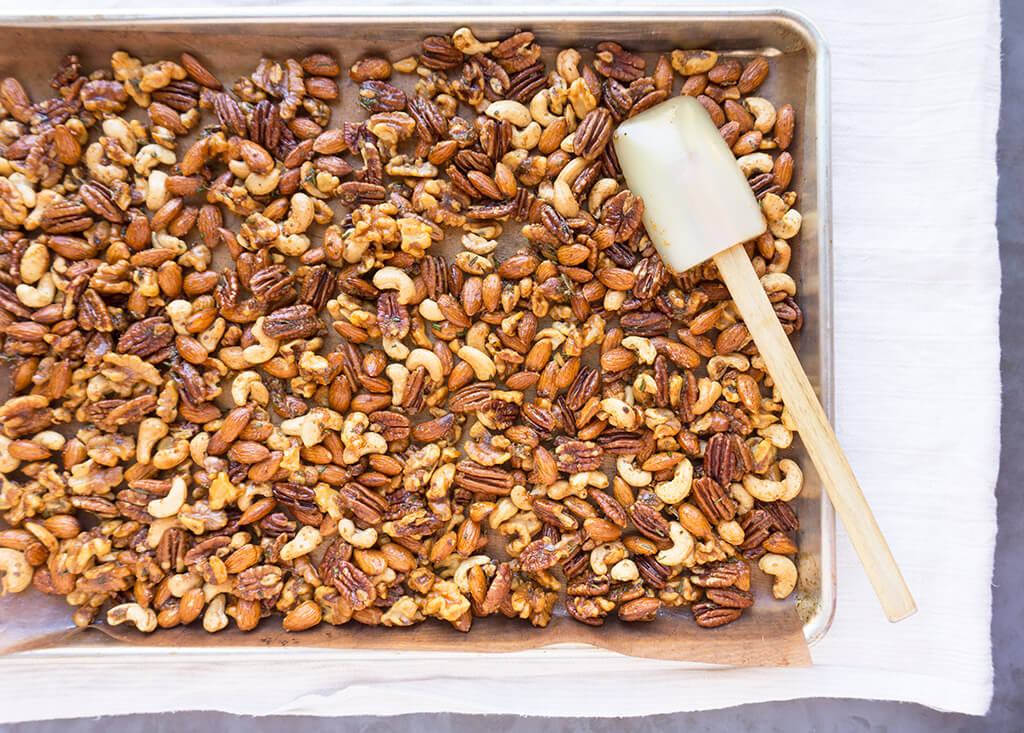 ---
STEP 5: Mix in Dried Cranberries or Dark Chocolate Chips (optional)
There are two variations that are quite tasty too. The first – adding dried cranberries – make these nuts taste like Thanksgiving. The second – dark chocolate chips – gives it a trail mix kind of vibe. Anyway you try them, they are definitely an easy crowd pleaser.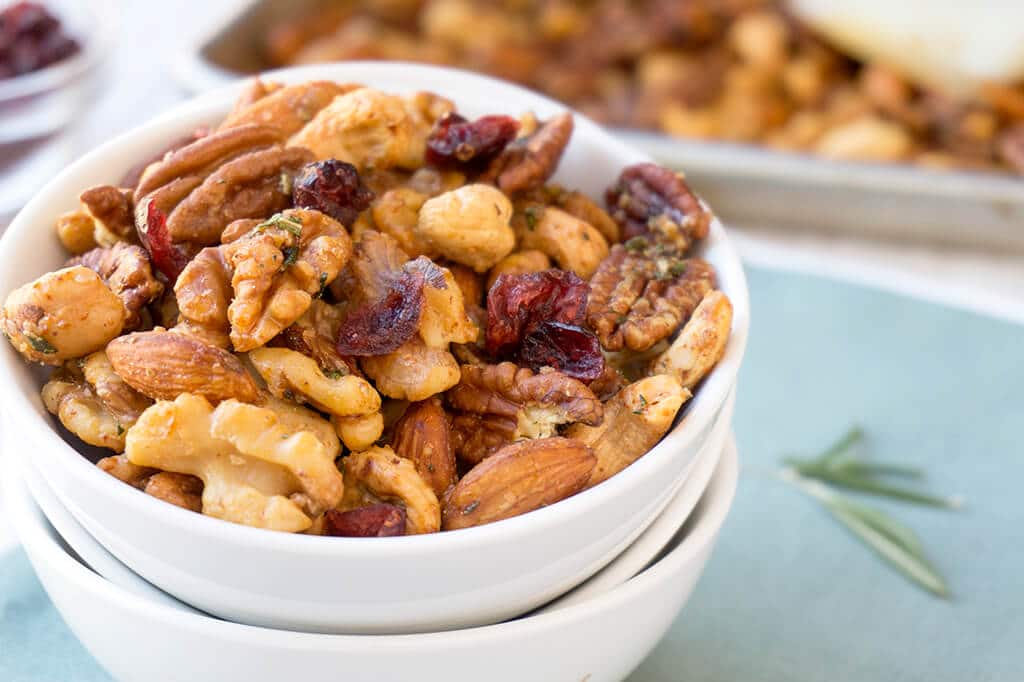 This holiday nut mix makes a perfect gift!
---
For a twist on your holiday sweet potatoes, try these
>> Sweet Potatoes with Apple Brandied Coconut Pecans.<<
---
TIP: This recipe is great for using up any leftover fresh rosemary after the holidays are over! I always seem to have an extra couple sprigs – instead of drying them, try this Sweet and Spicy Holiday Nut Mix!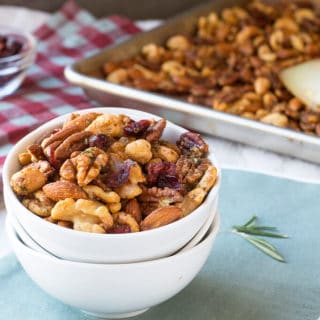 Sweet and Spicy Holiday Nut Mix with Rosemary
A sweet and spicy homemade nut mix for the holidays
Keyword:
homemade nut mix, roasted nuts
Instructions
Preheat oven to 350°F.

Put all nuts on a rimmed baking sheet and toast until golden, about 15 minutes.

While the nuts are roasting, melt the butter in a large pot on the stovetop. Add all remaining ingredients and mix well. Turn off heat.

When the nuts are ready, remove from oven and add to the melted butter mixture. Stir until completely coated.

Place a sheet of parchment on the baking sheet used to toast the nuts. Place the warm nut mixture back onto the baking sheet. Spread out well to cool.

Nuts will harden as they cool.

Store in an airtight container.
Nutrition Facts
Sweet and Spicy Holiday Nut Mix with Rosemary
Amount Per Serving (1 g)
Calories 425
* Percent Daily Values are based on a 2000 calorie diet.
More recipes picked for you