Strawberry-Ginger Granola Bars are full of delicious, good-for-you ingredients. They make an excellent snack for the trail, the office or just lounging at home with a good book.

On my fall adventure trip a couple weeks back I picked up a local brand of granola bar. They were named after the Adirondacks – DAK bars – so I decided to try them out! It was my mid-hike snack and I love it so much that I carried the wrapper in my pocket for the entire treacherous hike. At the summit the strong winds tried to pry it from my unzipped pocket, but I sprang after it and caught it! Phew! I really wanted to replicate it at home! 🙂
So here you have it – the Strawberry-Ginger Granola Bar. It took me two attempts to get it just how I remembered. Full of gingery zing, selectively dotted with strawberries and a nice crisp crunch.
---
---
Like any granola bar that's out of the wrapper, it will get less crisp with time. I suggest you freeze them to keep them crunchy. So here's your inspiration to get out and enjoy the nice fall weather before it's gone!
Pack a granola bar and hit the trail!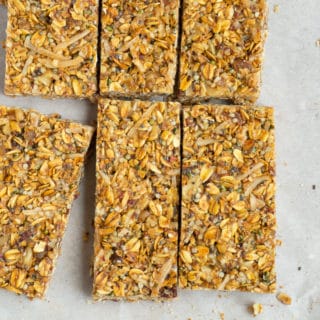 Strawberry-Ginger Granola Bars
A crisp snack bar with strawberries, ginger and loaded with whole grains, seeds, and omega-3s.
Instructions
Toast the oats in a 350 F oven for 10-15 minutes, stirring every 5 min until starting to brown.

In the meantime, mix all the other dry ingredients in a large bowl. Set aside.

When the oats are done, turn down the oven to 325 F. Add the oats to a Cuisinart or blender and pulse a few times to break up the pieces. This makes it easier for the bars to bind together as a nice compact bar.

Add oats to the bowl with the rest of the dry ingredients and mix to incorporate.

Warm honey and vanilla in a small saucepan over low heat. Once the honey has loosened pour over the dry ingredients. Mix well with a wooden spoon until everything is coated with honey.

Coat a 9 x 9 square pan with cooking spray + place a strip of parchment across one side so that the edges hang over the sides. This will serve as handles to help you lift the bars out of the pan.

Add the mixture to the pan and press flat with wet hands or the back of a wet flat surface (I used a metal measuring cup). Compressing the mixture evenly so you end up with a compact bar about 1/2" thick.

Bake for 20-25 minutes until edges are beginning to brown.

Let cool and harden completely before removing and slicing.
Nutrition Facts
Strawberry-Ginger Granola Bars
Amount Per Serving (1 g)
Calories 190
* Percent Daily Values are based on a 2000 calorie diet.
Why limit yourself to strawberry?
You can choose any dried fruit and create your own blend!
More recipes picked for you