How to Roast Garlic + 10 Recipes. Roasted Garlic is an amazing flavor boost for so many recipes. From soup to sandwiches, pasta and more.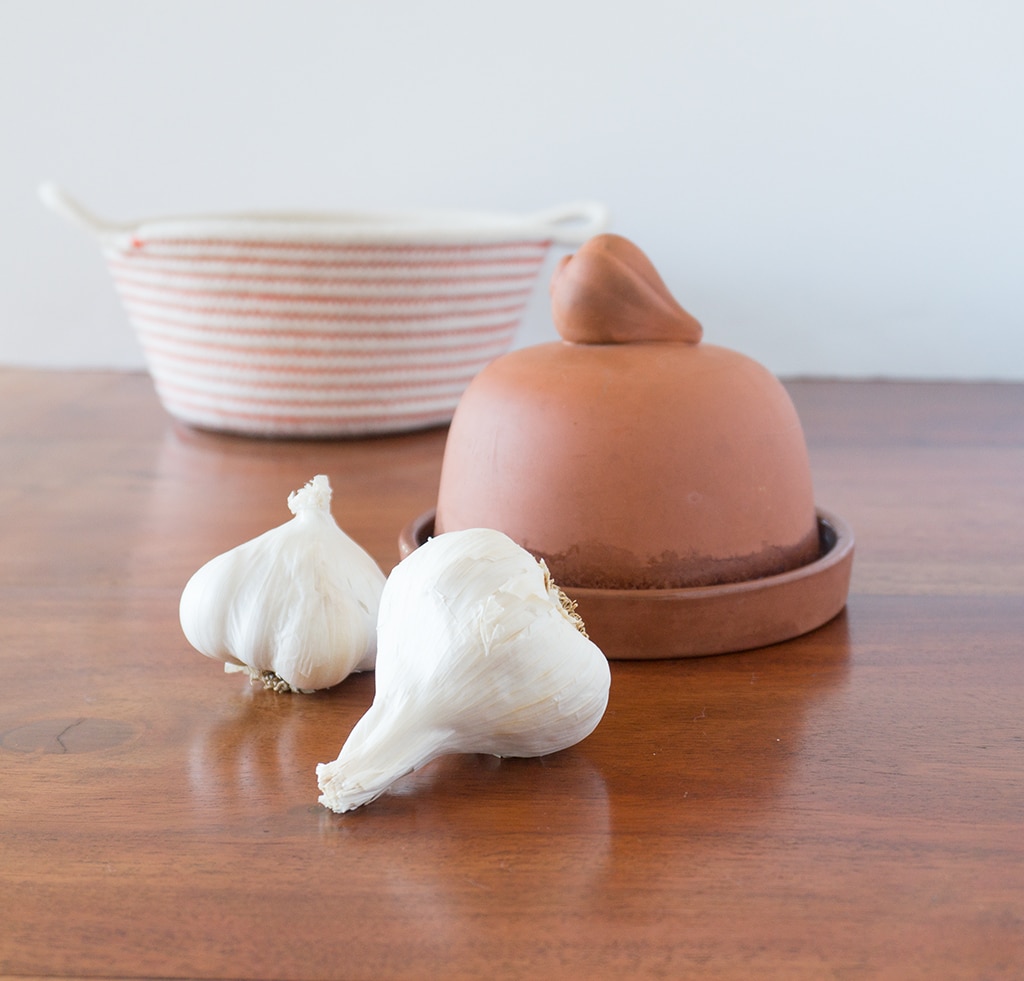 The first time I ever had mashed roasted garlic was at my brother-in-law's house. He served it as an appetizer with shaved parmesan and crusty bread. He also had strawberries with a balsamic reduction – I was in awe of his kitchen knowledge.
I went out soon after and purchased a garlic roaster. I was invested in this creamy and mellow garlic spread. It packs a lot of deep garlic flavor into dishes!
A simple appetizer can be assembled by layering a tiny bit of butter or olive oil, followed by a smear of garlic and a thin shaving of parmesan. Or you can let your guests build their own appetizer – spreading their own clove and adding different toppings.
This week, roasted garlic will be featured in a few recipes – garlic breath and all!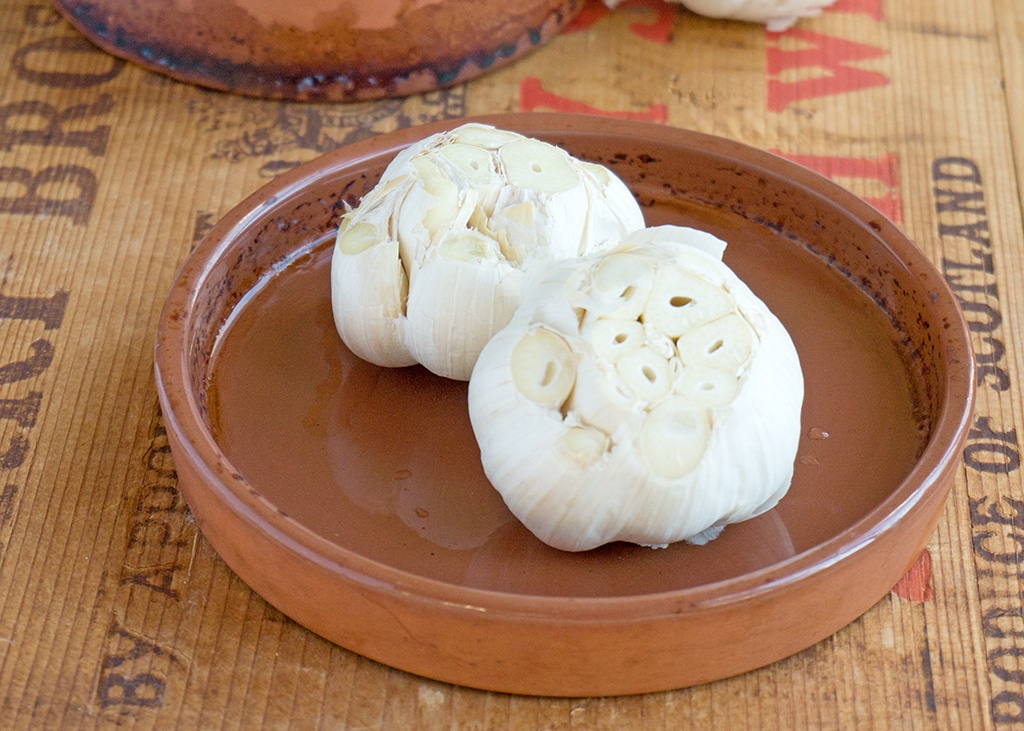 You don't have to own a garlic baker to roast garlic. Wrapping the bulbs in aluminum foil will work as well.
TIP: Include a sprig of your favorite herb like rosemary or thyme to the garlic bulb to add flavor.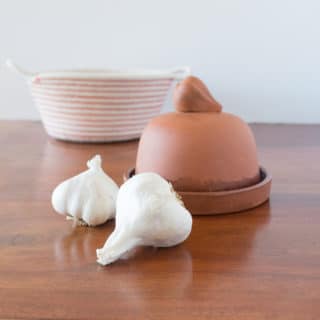 How to Roast Garlic
How to roast garlic and 10+ delicious recipes to serve it!
Ingredients
whole head of garlic

outer layer removed

olive oil

optional: sprig of thyme or rosemary
Instructions
Cut the top 1/4" off the garlic bulb(s).

Place in the

garlic baker

or on top of a sheet of aluminum foil.

Drizzle with a little olive oil. Add herb sprig, if using.

Add the lid or wrap up with foil and place in a cold oven.

Bake for 50 to 60 minutes at 350F.

Scoop the roasted bulbs out of each shell.

Use immediately or store in the fridge covered in a little olive oil for up to 1 week. You can freeze it for longer storage to use in soups. But why would you freeze this goodness?
Nutrition Facts
How to Roast Garlic
Amount Per Serving (1 g)
Calories 47
* Percent Daily Values are based on a 2000 calorie diet.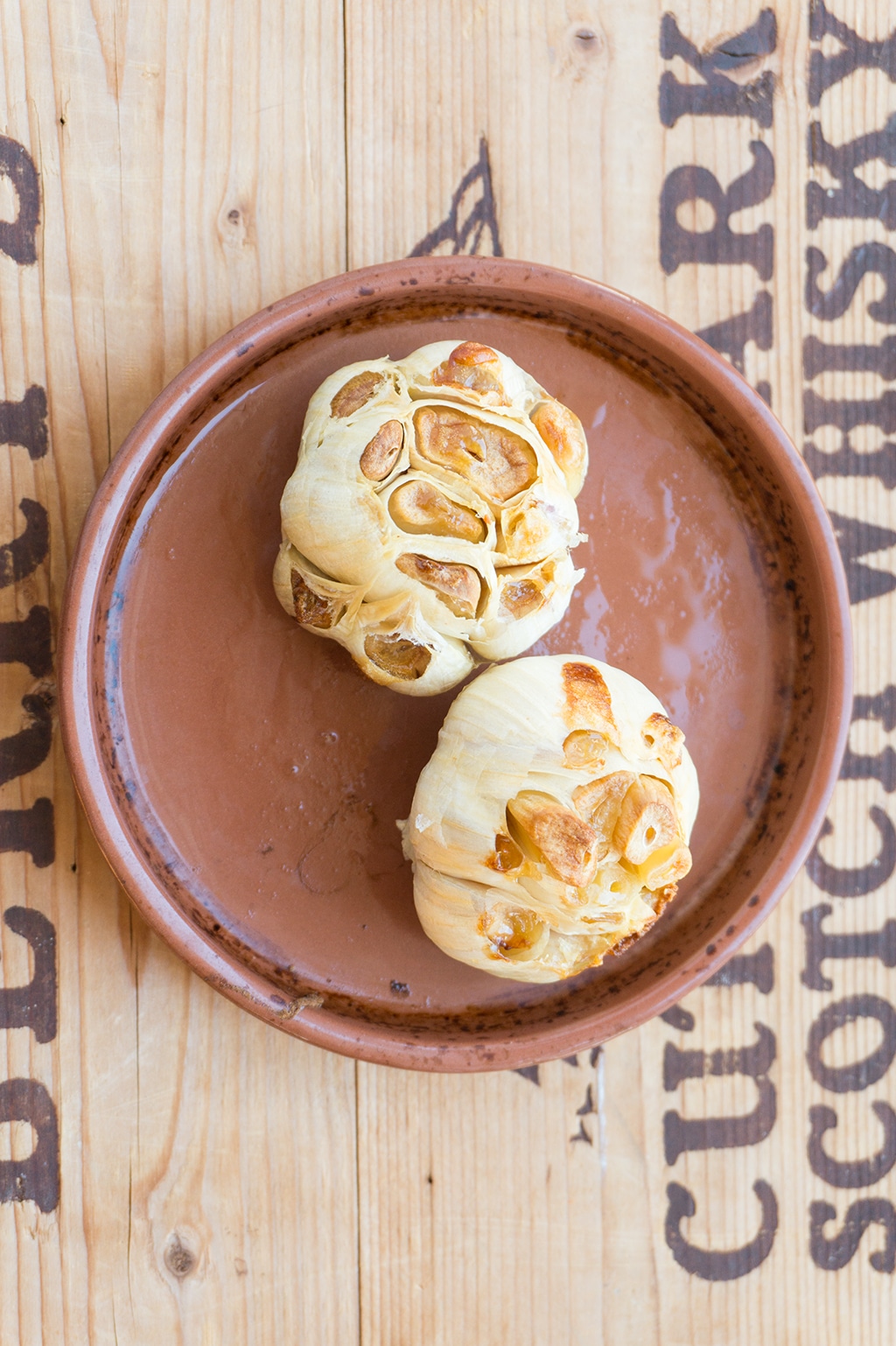 What do you eat Roasted Garlic with?


10 Fabulous Ways to Use a Head of Roasted Garlic
1. Puree it! Roasted Garlic Soup

2. Bring it for Lunch! Roasted Red Pepper & Garlic Panini
3. Dip it! White Bean Dip with Roasted Garlic

4. Make a Salad! Roasted Broccoli Salad with Almonds & Roasted Garlic
5. Slather It! Avocado Toast with Roasted Garlic
6. Sauce it Up! Creamy Roasted Garlic Pasta
7. Make Pizza! Roasted Garlic & Chicken White Pizza
8. Dare to Use 40 Cloves! Hummus with 40 Cloves
9. Make a Pesto! Roasted Garlic Walnut Pesto
10. Mash it! Roasted Garlic and Caramelized Onion Mashed Potatoes
You may also like these recipes