This Rhubarb Mango Oatmeal is a great way to start using rhubarb as it pops up in the spring. A perfect blend of sweet and tart, this oatmeal is naturally sweetened with dates, chia seeds are added for Omega 3s, and then it's dressed up with edible Johnny jump up flowers! I always thought strawberry rhubarb was the best combination, but rhubarb mango oatmeal is equally as delicious!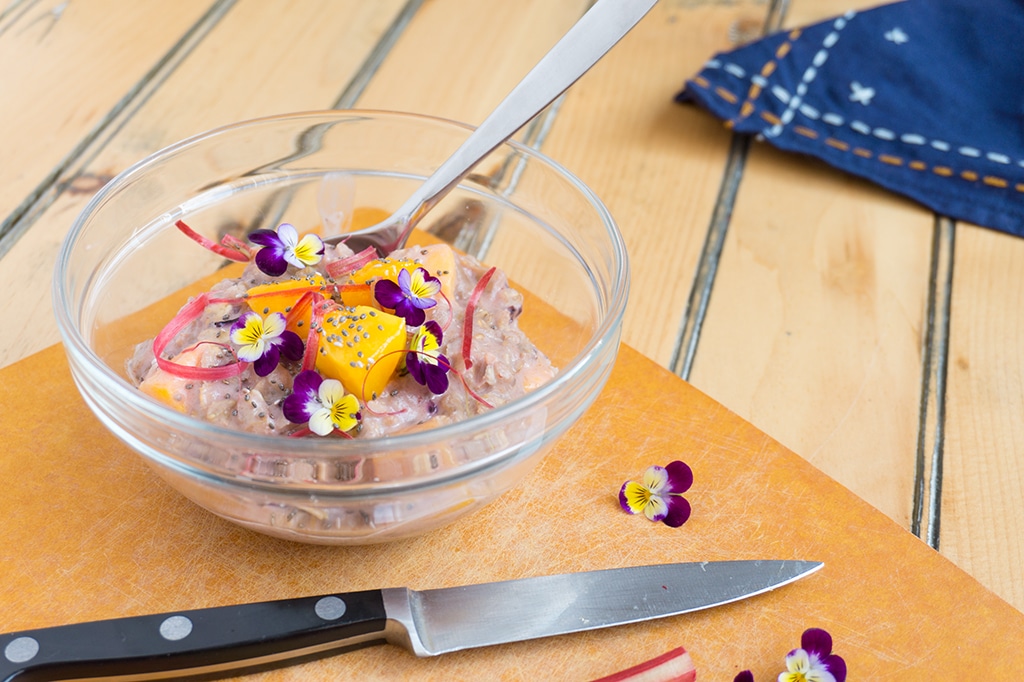 I usually make rhubarb oatmeal using this recipe, then I stumbled across a unique food blog that specializes in oatmeal. Since I am Oat&Sesame, this seemed like a great place to spend some time looking around.
After a bit of searching, I found rhubarb paired with mango – a combo I had yet to test out!
Frozen mango and frozen rhubarb can be used which means you can harvest your fresh rhubarb, dice it, freeze it and enjoy this recipe all year long!
Move over strawberries! You've got some competition.
Rhubarb + Mango
my new favorite combination

How to Sweeten Oatmeal without Sugar
Oatmeal is pretty bland without any sweetener. The challenge becomes how to sweeten it just enough without using added sugars. Less sugar is always a better breakfast!
In this rhubarb oatmeal recipe, there are two ingredients that act as natural sweeteners:
Without these two natural sweeteners, this rhubarb oatmeal would be quite tart!
Using Edible Flowers
This bowl of oatmeal was looking a bit plain, so I decided to decorate it with Johnny Jump Up (viola) edible flowers from my garden – which are easy to grow and reseed themselves.
There are so many flowers that can be planted for culinary use.
(see this edible flower list)
You can use edible flowers to decorate salads, cakes or as a pretty addition to the side of a platter.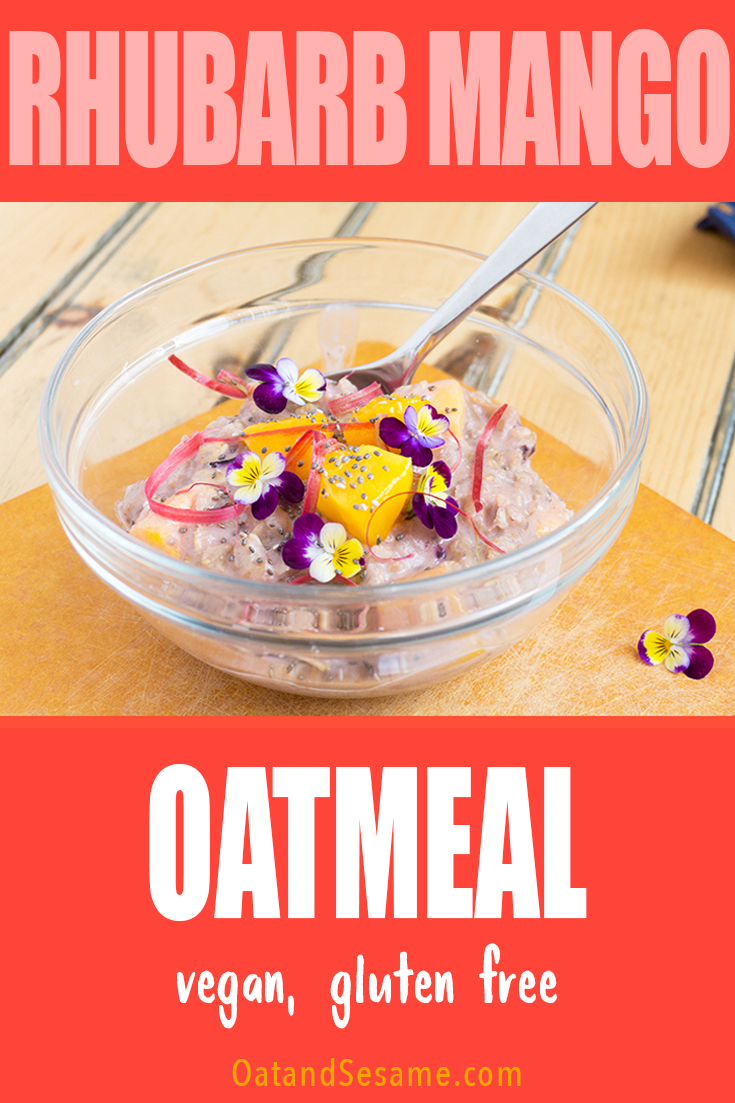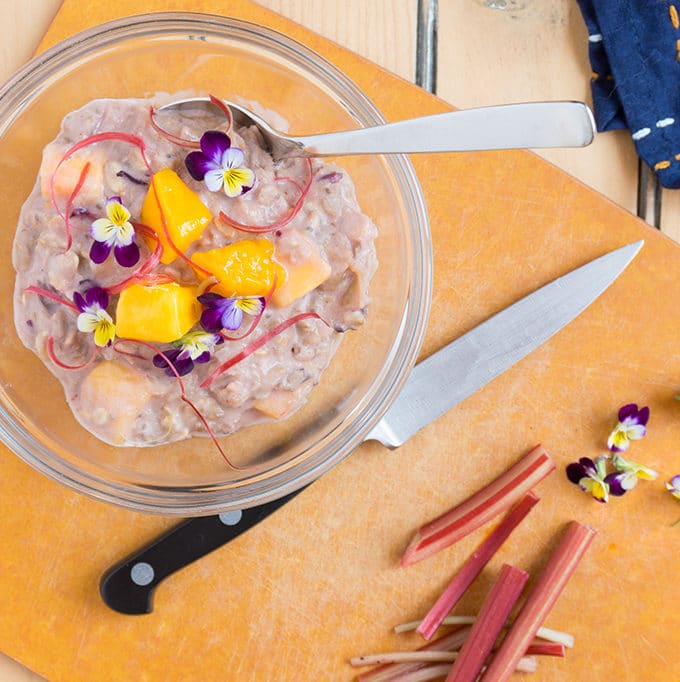 Rhubarb Mango Oatmeal
This Rhubarb Mango Oatmeal is perfectly sweet & you can still taste the rhubarb flavor. Decorate it with edible Johnny Jump Up flowers and you have a masterpiece.
Keyword:
oatmeal, rhubarb
Ingredients
1/2

cup

chopped rhubarb

1

pitted date or dash of sweetener of your choice

1/2

cup

almond milk

more if necessary

1/3

cup

rolled oats

1/2

cup

diced mango

frozen or fresh

1

tsp

lemon zest

more if you love zest!

1

tsp

chia seeds

dash salt
Instructions
Place rhubarb and date in a saucepan.

Add a quarter cup water to the pan and simmer until rhubarb softens. 3-4 minutes

Add almond milk and turn up the heat to medium high until the mixture is just about to boil.

Reduce the heat and add oats. Cook 3 minutes until oats are almost done.

Add mango,lemon zest, chia and dash of salt. Stir to combine.

Simmer until heated through and oats are done (especially if using frozen mango).
Notes
*Recipe adapted from the Oatmeal Artist
Nutrition Facts
Rhubarb Mango Oatmeal
Amount Per Serving (1 g)
Calories 285
* Percent Daily Values are based on a 2000 calorie diet.
---
I have to tell you about these little books! When I was on vacation in Austin, TX, I stopped at the cutest cooking shop – Métier Cook's Supply – and fell in love with these shortstack recipe books. Each one is dedicated to it's own vegetable, fruit or food item. They're adorable and I can't wait to dig into the rhubarb one soon!
*Post may contain affiliate links. While there is no extra cost to you, these links support Oat&Sesame. Thanks for supporting my blog!
More recipes selected for you