Pappardelle Pasta is tossed in a flavorful tomato-based sauce. The sauce is a portabella mushroom ragù made with a base of shallots, tomato paste, thyme and garlic. The sauce lightly coats these flat noodles allowing the mushrooms to stand out in this dish. A healthy splash of balsamic vinegar brings out the rich tomato flavor.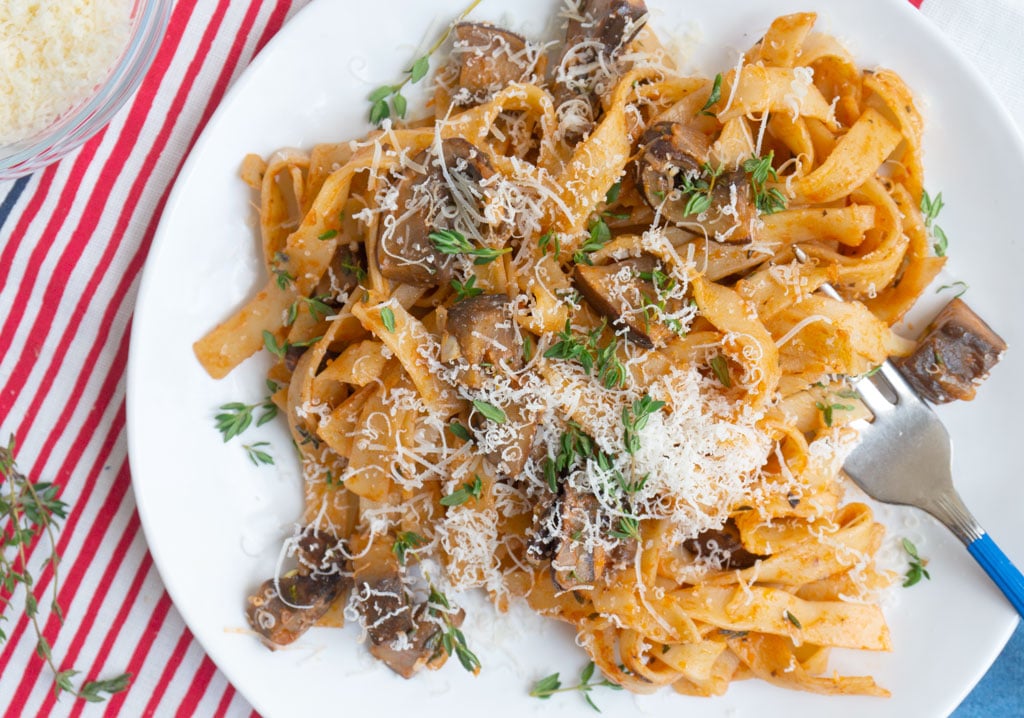 Is it a sauce or a ragù?
What's the difference? I decided to call this recipe a mushroom sauce, because most of us aren't doing a Google search for ragù. But officially that is what this is!
A traditional tomato sauce has lots of smooth liquid ingredients like tomato puree. On the other hand, a ragù is typically a chunky sauce, whether it be meat or vegetables like the mushrooms in this pasta recipe. Ragù uses tomato paste to add color and depth of flavor, but it is not sauce-y. Read more at Taste of Italy here.

If you're looking for a traditional sauce recipe, try my Easy Homemade Tomato Sauce.
Steps for making this easy Mushroom Pappardelle Pasta: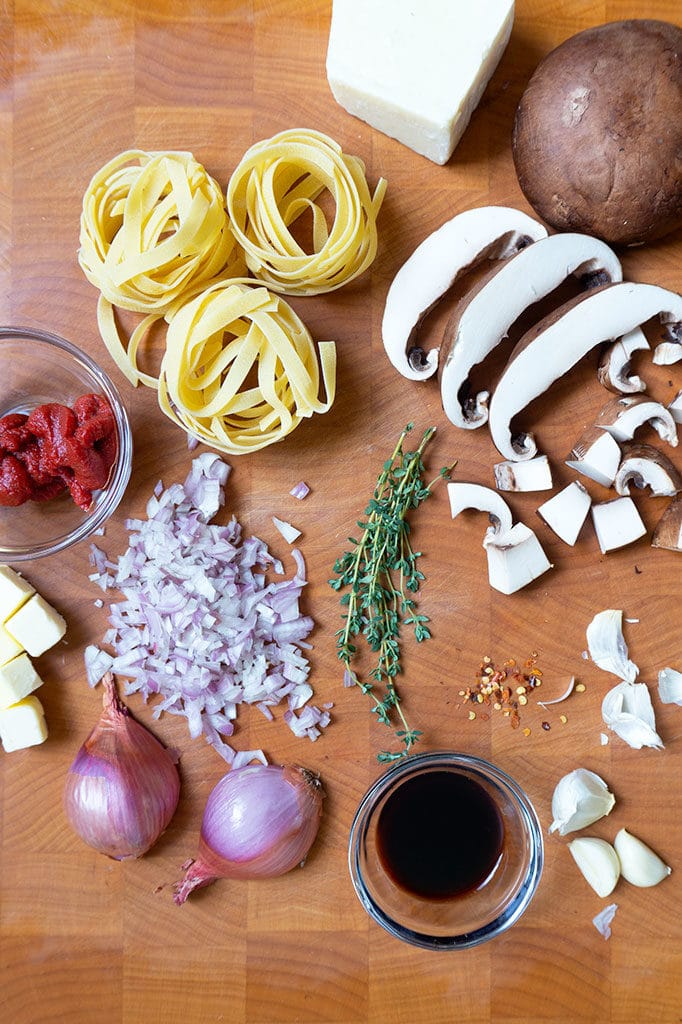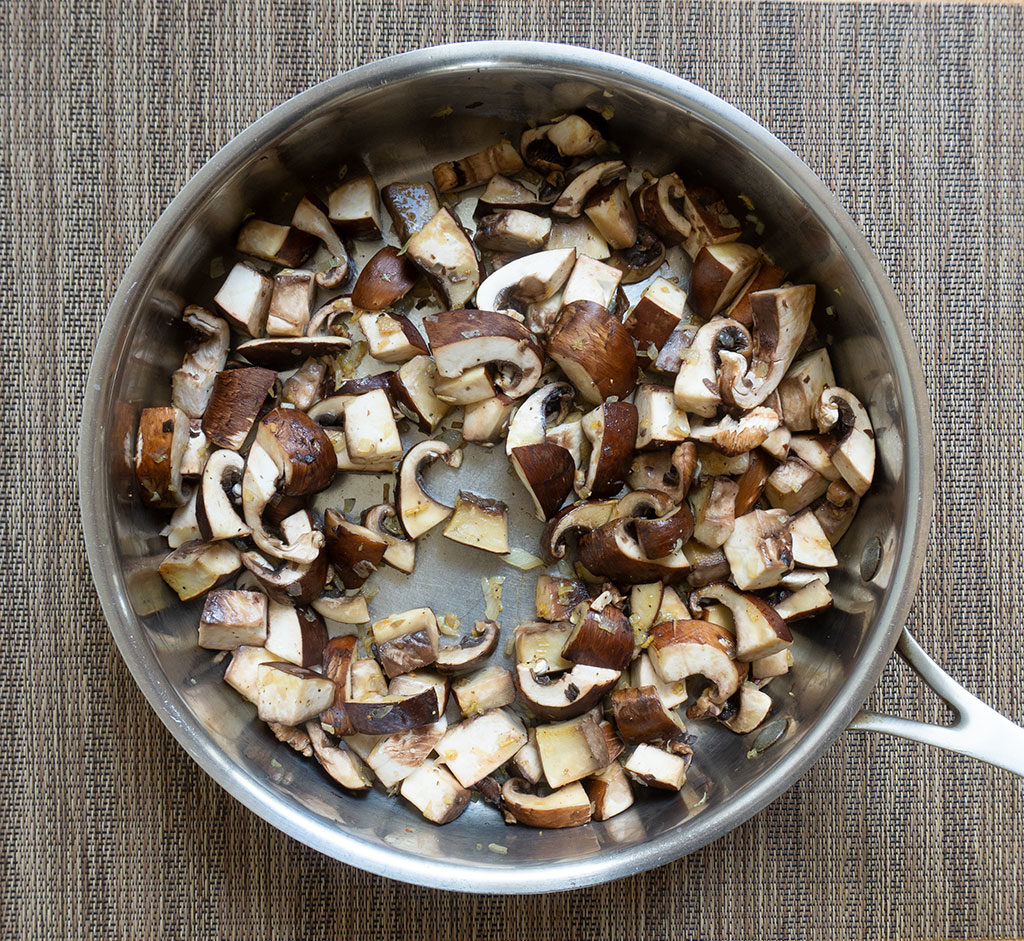 Tips on how to prepare Portabella Mushrooms:

1. Like any mushroom, the first step is to clean the mushroom. Never soak mushrooms in water to rinse them. Mushrooms absorb water very easily and this will make them spongy. A quick rub with a slightly damp paper towel will work well or use a mushroom brush. Stems are also removed.

2. Removing the Portabella mushroom gills.
This step is up to you. The black gills on the underside of the mushroom can be eaten. However, they can turn your food, especially sauces, a bit murky. So in this recipe, I remove them by scraping the gills out with a grapefruit spoon.
One of my favorite qualities about mushrooms is that they are a blank slate for flavor. A 30 min marinade is all it takes for mushrooms to soak up lots of flavor. Which makes them perfect for a quick meal like these tacos.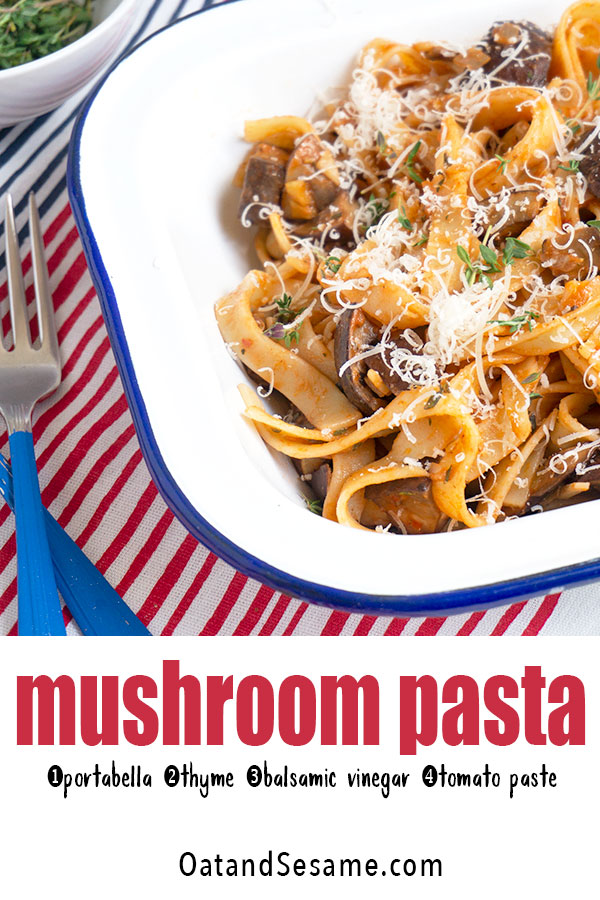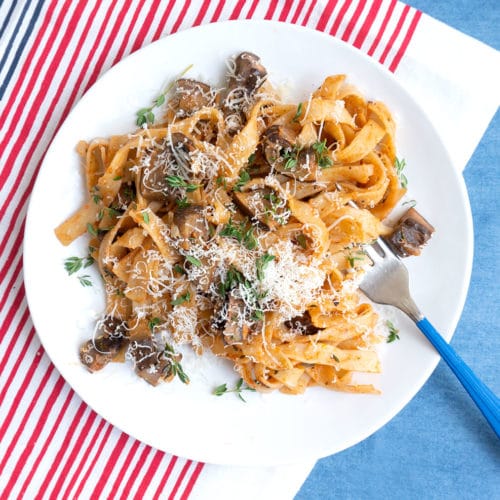 Portabella Mushroom Pappardelle Pasta with Thyme
This simple Portabello Mushroom Pasta is made with a rich mushroom & thyme ragù. The sauce is a base of shallots, tomato paste, thyme and garlic. A splash of balsamic vinegar brings out the deep and rich tomato flavors in this mushroom sauce.
Cuisine:
American, Italian
Keyword:
mushroom pasta, pasta recipe, vegetarian pasta
Ingredients
8

ounces

tagliatelle, pappardelle

or other long flat noodle

2

Tbs

olive oil

2

medium

shallots, finely diced

(about 1/3 cup diced)

4

large

portobello mushroom caps, black gills scraped out then sliced into 1-inch pieces

2

garlic cloves

finely minced

1

Tbs

finely chopped fresh thyme

1/4

tsp

red chili flakes

2

Tbs

tomato paste

2

Tbs

unsalted butter (or non-dairy butter of choice)

3

tsp

balsamic vinegar

Parmigiano Reggiano, grated to top
Instructions
Bring a large pot of water to a boil and then add 2 tablespoons kosher salt. This salt will flavor the noodles. Cook the pasta until al dente. Scoop out and RESERVE 1/2 cup of the pasta water, then drain the pasta.

While your pasta is cooking, heat olive oil in a large skillet over medium heat. Once warm, add shallots and a pinch of Kosher salt and pepper. Sauté, stirring frequently, until the shallots are softened, but not browned.

Add the mushrooms to the pan. Cook the mushrooms for a few minutes until they start to soften and darken in color. Stir in 1/2 teaspoon Kosher salt. Continue cooking until the mushrooms become tender and their liquid evaporates.

Add the garlic, thyme, chili flakes, tomato paste, balsamic vinegar and butter to the mushrooms. Cook for 1 minute.


Add the 1/3 cup of pasta water and stir over medium heat until the mixture becomes saucy. Add the cooked pasta to the pan and toss gently with tongs to coat with the sauce, adding more pasta water if it's too dry. Taste for seasoning.

Add grated Parmigiano cheese over the pasta and serve.
Nutrition Facts
Portabella Mushroom Pappardelle Pasta with Thyme
Amount Per Serving (1 g)
Calories 320
* Percent Daily Values are based on a 2000 calorie diet.