Moroccan Squash with Vegetable Almond Pilaf is a favorite! Seasoned with ginger, spices, topped with harissa + labneh, the flavors are warm & exotic.
Recipes that include Moroccan spices are popping up all over. Maybe I've become keenly aware of them since I am traveling there soon. It's strange. Does this ever happen to you? Maybe it's Google taking note of my trip and bringing these recipes to my attention. I'm not sure which is more alarming.
On the other hand, my love affair with Ras al Hanout, Za'atar and harissa can only benefit from this information. So I'm ok with it.

A few weeks ago, I made? Spiced Moroccan Tomato Soup with Ras al Hanout I purchased in Amsterdam. While visiting a farm outside of the city, our lunch featured soup made with it and I knew it was a spice I needed in my collection. I also created a? Roasted Tomato Soup with Harissa last fall. Harissa can be used to enhance soups, vegetables, almost anything! One of my favorite salads is a shredded carrot salad with mint, feta and harissa.
All of these spices can be created at home or they are easily found online or at your local grocery store. My favorites are below. (affiliate links support O&S)
This Moroccan Squash with Vegetable Almond Pilaf was inspired by a recipe I saw on
SewFrenchEmbroidery
. I served it to my friends Scott and Kirsti when they came to visit us in September. I had forgotten that the night before they arrived they dined at
Zahav
 – an amazing Israeli restaurant in Philadelphia. I could only hope that my meal could be somewhat delicious in comparison and that they weren't tired of harissa nor labneh! We all loved it! I served it with toasted flatbread, baba ganoush and
salted sautéed dates
(which sounds strange but is outstanding)
.

The good thing is that when you have such fine spices and fresh, healthy vegetables – it's almost always delicious. And who doesn't love couscous?
This time around I've added a little fall flair to the dish. Switching out potatoes for roasted delicata squash + building the dish in a squash bowl. Delicata has tender skin that is edible – it's my favorite little squash. I will say that it's a little hard to slice in half – it's like the coconut of the squash family! You need a good knife and some arm strength! Any squash will do, but I like the size and shape of this one for the job. And if squash boats aren't your thing, slice the squash into half moons before you roast it and just serve it sliced with the veggie couscous pilaf.
You'll also find parsnips in my fall rendition – you know, those funny looking white carrots that you walk past in bewilderment at the grocery store. Or wait, is that just me? Here's an explanation of these pale carrot cousins and how to pick the best ones. I'll be making a Thai Peanut soup with them later this week!
If it sounds complex, it's not – really it's just roasted vegetables, couscous and some amazing spices. The dish is versatile – use your favorite roasted vegetables if you'd like. I'm sure it will taste wonderful – that's the beauty of being a vegetable. And if you have picky eaters (i.e. kids) – you can leave the spices off the veggies and add them to individual servings so that they can have plain couscous and veggies and you can enjoy the flavors of exotic Morocco!
---
Stay in touch! 
Follow me on Instagram, Twitter, Facebook, and Pinterest to get the latest!
---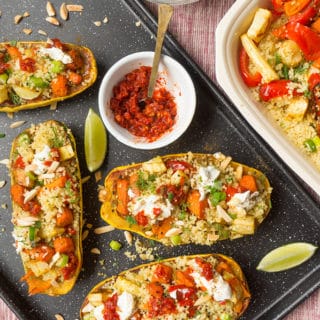 Moroccan Squash with Vegetable Almond Pilaf
This savory Moroccan Pilaf will soon become one of your favorites! Seasoned with fresh ginger, dashes of Ras al Hanout and Za'atar and topped with harissa and kefir, the flavors are heartwarming and exotic.
Ingredients
1

cup

dry couscous

Pinch

of saffron

optional

2

small/medium Delicata Squash

cut in half lengthwise (you could also roast and serve this in slices if you prefer)

3

medium parsnips

peeled and chopped into large pieces

4

medium carrots

peeled and chopped into large pieces

2

large red bell peppers

cut into large pieces

1

Tbs

Harissa Paste

2

tsp

fresh ginger

grated

4

scallions

diced

2

tablespoons

toasted sesame seeds

optional

1/3

cup

slivered almonds

toasted

1/4

cup

fresh dill

chopped

1-2

tsp

Za'atar

1-2

tsp

Ras Al Hanout

Salt

to taste

Olive oil
Toppings
Labneh

Lebanese strained yogurt or Greek yogurt sprinkled with za'atar

lemon or lime wedges

drizzle of good olive oil
Instructions
Preheat the oven to 400F (375 if using convection roast). Line 1 large and 1 small rimmed baking sheet with parchment. (the red pepper takes less time to roast and needs it's own baking sheet.)

Brush the cut squash on both sides with olive oil. Sprinkle each cavity with salt, pepper, a sprinkle of Ras al Hanout and about 1/4 tsp of fresh ginger. Place face down on the large baking sheet.

Toss parsnips and carrots with olive oil, salt and pepper. Arrange in a single layer next to the squash. Toss the red pepper with olive oil and salt, place on the small baking sheet. The red pepper will roast for 12-15 min and the other vegetables need about 20-25 minutes, stirring them around halfway through the cooking process.

While the vegetables are roasting, prepare the couscous (adding a pinch of saffron if using) according to package instructions (usually about 5 min) and toast the slivered almonds in a dry pan on the stovetop (3-5 min).

Once the couscous is done, stir in some olive oil, 1 tsp za'atar, the diced scallions, toasted sesame seeds, almonds and fresh dill. Season with salt to taste.

Once the vegetables are done, place the carrots, parsnips and red pepper in a bowl and toss with the remaining grated ginger and 1 Tbs Harissa.

Fill the squash with couscous and a good helping of vegetables.

Toppings should include: a side of labneh or thick Greek yogurt sprinkled with za'atar and olive oil and side of Harissa paste. Lemons or lime wedges to squeeze on top.
Notes
Serving suggestions:
Side of toasted flatbread
Chickpeas are a great addition to the couscous
Sautéed Salted Dates are amazing
TIPS FOR KIDS:
Use the spices on individual servings at the end to accommodate a picky eater.
Nutrition Facts
Moroccan Squash with Vegetable Almond Pilaf
Amount Per Serving (1 g)
Calories 489
* Percent Daily Values are based on a 2000 calorie diet.