This Homemade Applesauce with Maple Syrup is a fall tradition. Served warm it's super cozy on chilly fall nights. Freeze into small portions + use as an oil replacement for your baked goods!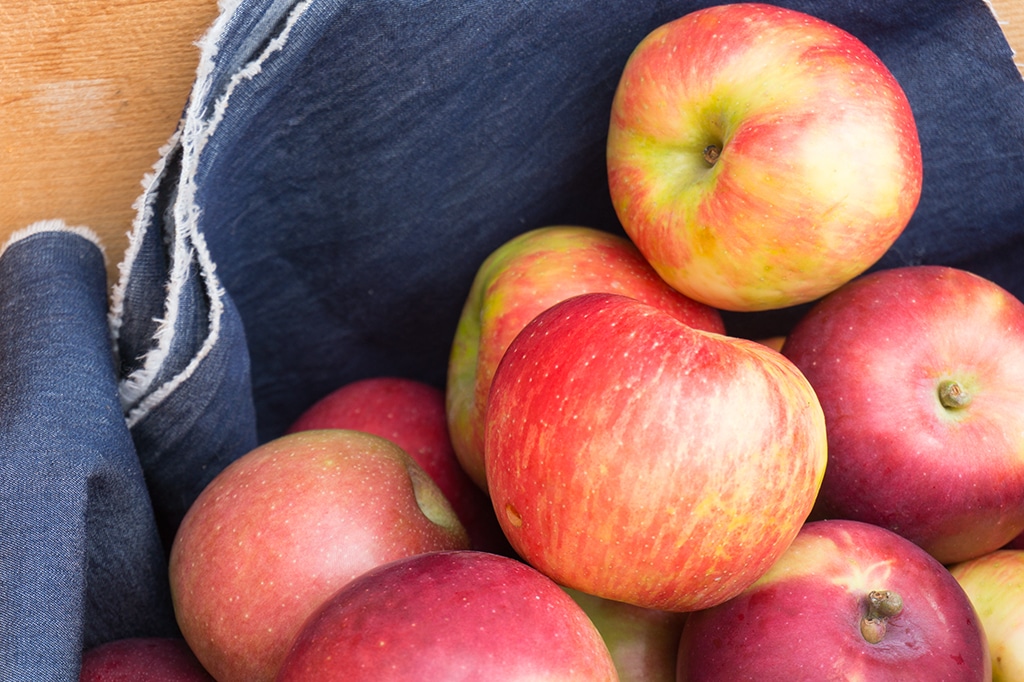 Maple Your Applesauce. That's right, it's apple season and we're picking and saucing and doing all sorts of apple bread baking.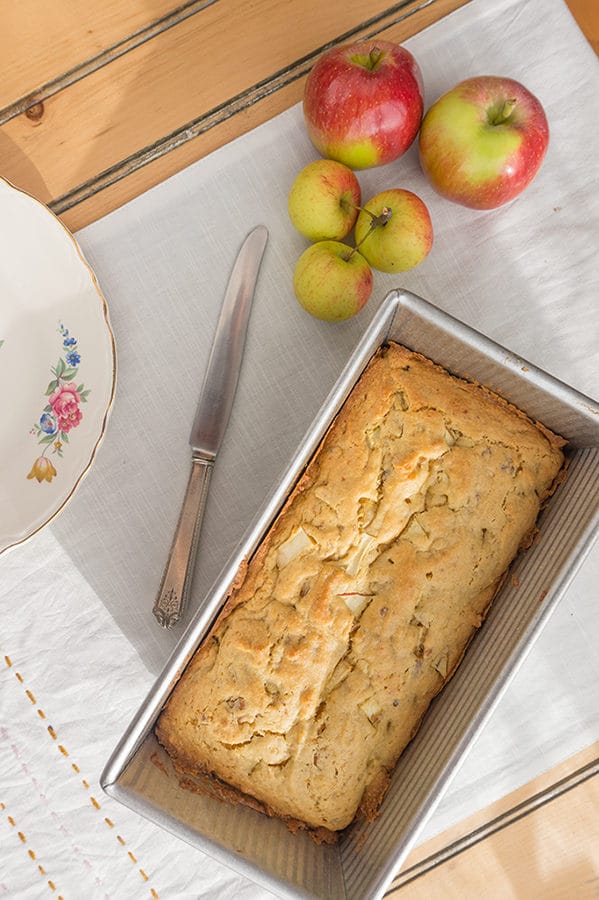 If you've followed Oat&Sesame's #travelingandeating posts, you know that every year I take an apple road trip. This year is no different. I've been busy planning what direction I'll head and after much deliberation decided to head straight north from Albany to Lake Placid. There is some amazing hiking and camping in this region and that's where I'll be gathering up all the apples I can find. We need plenty of apple energy to hike the 13.5 miles RT to Mt. Marcy– the tallest mountain in New York! Stay tuned for Upstate New York trip photos and Adirondack hiking guide and apple themed recipes!
Why should you make this applesauce recipe with fresh apples?
Simple.
It's a million times better than any sauce you'd buy in a jar
It's a super healthy snack
You can use applesauce all year long to replace oil in your quick bread, cakes
And of course you want to show off your mad kitchen skills to your friends and family.
All very practical reasons. 🙂
How to make homemade applesauce from scratch
Step 1: Cut Apples and Place in Large Stockpot
You'll add the cider and cinnamon and simmer this down a bit until the apples have softened. Make sure to use a variety of apples instead of just one – it really adds to the flavor when you have different kinds. I even have added raspberries to make pink applesauce!
Step 2: Put Apples through a Food Mill – seeds, core + all
The only tool I highly recommend is a food mill. It looks like a medieval contraption, but it's really an invaluable kitchen tool – especially for any fruit or vegetable you want to puree.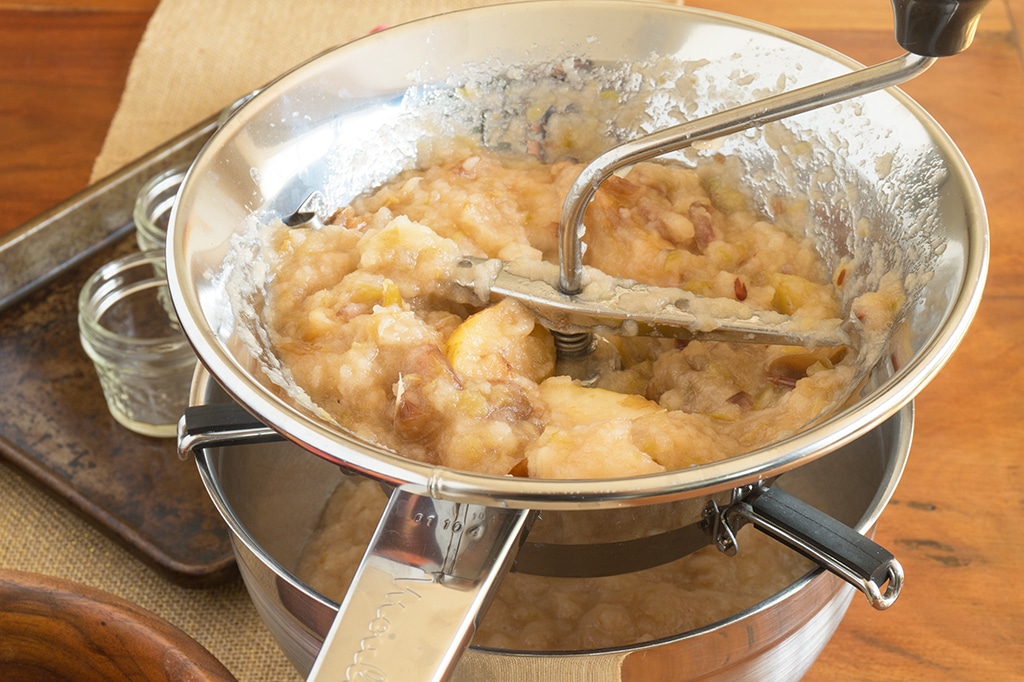 Think fresh pumpkin, tomato sauce, baby food and of course applesauce. Using a food mill means you don't have to peel, de-seed or de-stem the apples. Just quarter them, place in a large stockpot and cook them down. The food mill will strain any tough pieces out and the seeds, skin and stem give homemade applesauce an extra flavor bump.
Step 3: Add Maple Syrup and other spices
At this point the applesauce is ready for you to make it your own. This classic homemade applesauce has no refined sugar, it's sweetened with maple syrup or can be made without any sweetener at all.  Homemade applesauce with no sugar makes it flexible for all kinds of uses later on. 
I love applesauce with maple syrup, a squeeze of lemon juice and cinnamon.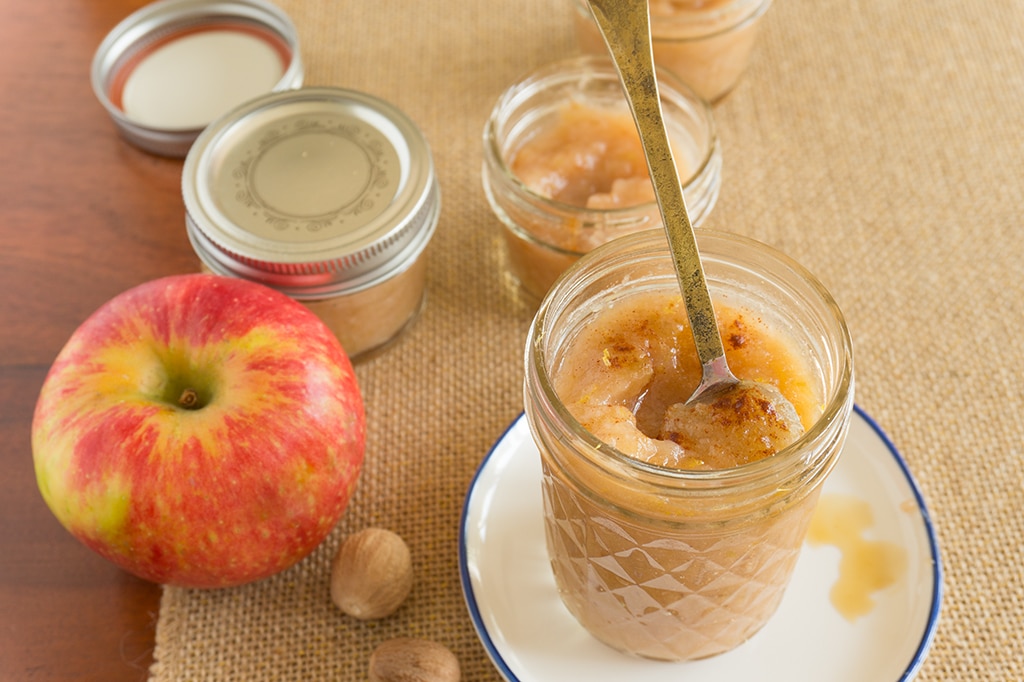 Can you Freeze Homemade Applesauce?
For storage, you can either freeze applesauce or jar it. I freeze it into 1 or 2 cup portions which makes it very easy to measure when I need to use it for baking or just take a little out for snacking. Who doesn't love a bowl of warm applesauce sprinkled with cinnamon on a cold, blustery winter day. These days are coming people and I'll have my applesauce ready!
How to Jar Homemade Applesauce
Jarring applesauce is super simple. It may seems a bit nerve-wracking if you've never done it, but if I can do it, you definitely can too. I use the oven method – described in my jam recipe post (10 min, 350F). Fill the sanitized jars with applesauce while the jars are still warm. Leave about an inch of headroom at the top for expansion and to create the air vacuum which will self-seal the jars as they cool.  Screw on lids and let them sit at room temp to cool. Congrats, you're a jarring pro! Imagine what you will do next!
TIP: If you are purchasing apples from a grower or farmer's market, ask for the seconds – apples that aren't particularly perfect for eating, but are absolutely fine for this applesauce. They're cheaper!!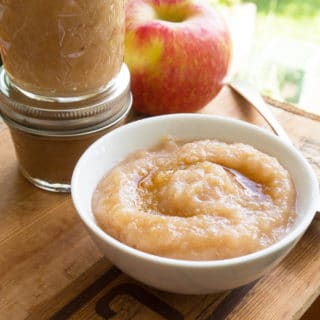 Homemade Applesauce with Maple Syrup
Homemade Applesauce using several apple varieties swirled with maple syrup and lemon. Make + freeze in batches to get you through until next apple season!
Ingredients
5

lb

apples

preferably MacIntosh, Winesap or other sweet apple - mix and match for best flavor

1

cinnamon stick

1/2

cup

apple cider
To Sweeten Apple Sauce
1/2

cup

maple syrup

grated zest of 1 lemon

1

tsp

ground cinnamon

1/4

tsp

freshly grated nutmeg

salt to taste

up to 1/2 tsp
Instructions
Cut apples in to quarters.

Combine with cider and cinnamon stick in a large heavy stockpot over high heat, cover and bring to a boil. Reduce heat and simmer for about 1 hour, stirring often, or until the apples are soft. Remove and set aside cinnamon stick when apples are done cooking. *see note

At the same time, you should sterilize your jars - 350F in the oven for 10 min on a baking sheet, glass part only. Or skip if you plan to eat or freeze the applesauce within the next week.

Increase heat to medium and cook uncovered for 10 minutes to reduce liquid.

Put apples through a

food mill

, discarding peel and seed as you go.

If you will use the applesauce for baking, store as is, unsweetened.

If you would like to have this as a snacking applesauce, add maple syrup, lemon zest, cinnamon, nutmeg and salt. Mix well.

Spoon into hot sterilized mason jars leaving about 1" headspace, seal with lids. Let cool. Lids should pop inward making a little ping sound when completely cool to indicate they are sealed.
Notes
*Cinnamon sticks can be reused! Rinse it and save it for the next round of applesauce!
Nutrition Facts
Homemade Applesauce with Maple Syrup
Amount Per Serving (1 g)
Calories 150
* Percent Daily Values are based on a 2000 calorie diet.
apple recipes for YOU