Making Homemade Nut Milk is a breeze. With simple ingredients & a nut bag you'll avoid the extra additives found in store-bought milk. Then you can make this delicious Trader Joe's cookie butter latte!
Almond milk, soy milk, cashew milk, oat milk. The number of milk alternatives is quite overwhelming. Which one is the best, the healthiest, etc. 
It's best to eliminate as many processed foods as possible in your diet. That includes store-bought nut milks which contain additives that can be avoided by making your own – such as titanium dioxide (a whitener) and  carageenan (a thickener).
My husband's doctor asked him to avoid store bought nut milk all together to help with his asthma. Carageenan has been tied to inflammatory effects in the body so we just avoid it all together. Wellness Mama has a great article about it here.
How to make homemade nut milk
Some of you may scoff at the idea of making homemade nut milk.
Do I really have time to make my own milk? YES!
The process is simple and as long as you have a nut bag to strain the pulp, there is no reason you shouldn't make it at home.
Here is what you need to make the best nut milk:
water

organic nuts
dates (to sweeten, optional)
salt (just a pinch)
pitcher or mason jar to store the milk
Step 1: Blend
Add nuts, dates, water and salt to a blender and let her rip! I just got a new Vitamix, but any blender will work. My ratio is 1 cup nuts, 3.5 cups water, 2-3 dates, 1/8 tsp salt.
If you decide to make almond milk you will have to soak them overnight to soften them, drain them in the morning and add fresh water. (I told you they were water hogs)
Step 2: Squeeze
Pour the liquid into a nut bag over a bowl and squeeze out all the creamy nut milk! You can adjust the thickness of your milk by customizing how much water you use.
Step 3: Cookie Butter Latte
Now get to business making that cookie butter latte for yourself!
It's equally as delicious as any coffee house concoction – using cookie butter as the spice and sweetener!  If you've never tried Trader Joe's cookie butter– it's a special treat!
No cookie butter available? Try this Mocha Oat Smoothie!
---
One of the main reasons I started researching nut milk alternatives is because almond milk tastes awful in hot coffee. Do you agree?
Plus, the exponential growth in the demand for almonds for almond milk and other non-dairy alternatives has turned them into an unsustainable crop. The majority of almonds are grown in California, but the state's water issues paired with the tremendous amount of water it takes to grow almonds makes them a problematic crop. We all just need to diversify our nut milk people!
I've read many articles about brazil nuts lately. You know…those giant nuts you avoided in the mixed nut dish at holiday gatherings as a kid.  They were weird, right? Here's where we can make a difference for the planet. Start eating those weird giant brazil nuts. Drive up demand. There is a movement called Rainforest to Table to promote native crops to protect the rainforest and brazil nuts are on the list!
You see brazil nut trees only do well in wild, undisturbed rainforest. A surge in market demand for these nuts could help to reduce deforestation and promote biodiversity.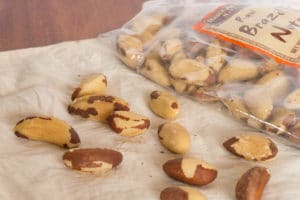 Plus, Brazil Nut milk isn't bitter in my coffee, it's actually creamy and smooth. And a pre-soak is NOT required! You can wake up, realize you're out of milk and 10 minutes later have produced your own. This is my kind of nut. 
PIN IT
Cookie Butter Latte
Here's a real coffee house treat that can be made at home as quickly as you can brew a cup of coffee! No frothing wand required!
Keyword:
latte, speculoos
Ingredients
3/4

cup

brazil nut milk or any nut milk

1/3

cup

strong freshly brewed coffee or espresso

2

tsp

vanilla

Top with cinnamon and a drizzle of melted cookie butter
Instructions
Heat milk in the microwave for about 20 sec.

Add warm milk, warm coffee, vanilla and cookie butter to your Vitamix or blender. Run it either on soup setting for Vitamix or until nice and frothy in a regular blender (starting at low speed and gradually raising it to high for a total of about 30 sec). The Vitamix will stop when it's ready.

Pour into mug and then top with cinnamon and a tiny bit of cookie butter melted in the microwave - about 20 sec.
Notes
Add more or less milk and/or coffee to create your perfect coffee. My ratio is exactly how I like it - the taste of coffee, not too much milk and a bit of sweetness.
Nutrition Facts
Cookie Butter Latte
Amount Per Serving (1 g)
Calories 529
* Percent Daily Values are based on a 2000 calorie diet.
What to do with leftover nut pulp
TIP: Keep that leftover nut meal/pulp! You can use it as a flour substitute in your baked goods, or even as a thickening agent in soups. To do so, simply spread out the meal on a baking pan and place in a low oven (200˚F) for about 2 hours to draw out the extra moisture. Grind extra fine in a Cuisinart and store in a cool place. Or leave the pulp wet and use it in this brownie recipe.
Stay in touch! Follow me on Instagram, Twitter, Facebook, and Pinterest to get the latest!
You may also like these smoothies