Hibiscus Iced Tea – also called agua de jamaica – is a fruity, tangy summer beverage. It's a great alternative to regular iced tea and also makes excellent ice pops!
When I was living in Tucson, Arizona, I loved drinking this at Martin's on 4th Avenue. Martin makes the best tacos + agua de jamaica!
Many cultures use dried hibiscus flowers to create beverages but most commonly I see it at Mexican restaurants. It has a lovely cranberry-like flavor and is usually sweetened a lot.
I've toned down the sweetness in this recipe. Think of it as a more natural version of Kool-aid.
---
Aguas Frescas
My love of fresh fruit or flower based aguas frescas runs deep. Our farmer's market has several Mexican food vendors that draw you in with their barrel-shaped glass jugs (vitrolero) filled with colorful, fruity blends. 
I can't resist these thirst quenchers. The combinations are infinite and ever evolving with modern extras like chia seeds, spirulina and coconut!
Aguas Frescas are the perfect addition to a Cinco de Mayo party!!
---
On a hot summer day, there's nothing more refreshing than this Jamaica tea. Drink it with a plate of these chicken tacos for the ultimate meal to enjoy lounging in the summer sun.
Cheers to long, sunny, taco-filled days ahead! Disfruta!
---
How to Make Hibiscus Iced Tea
You'll need the following:
To make Hibiscus Iced Tea:
Steep dried flower petals in boiling water until it's deep red.
Remove tea bags/or strain.Add sugar, stir to dissolve.
Add lime juice.
---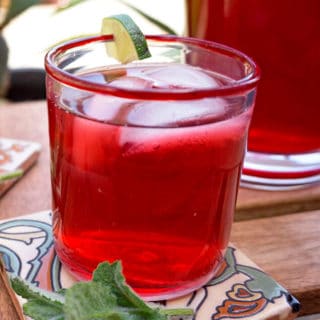 Hibiscus Iced Tea (Agua de Jamaica)
Sweet & Tangy - this ruby red iced tea is so refreshing on a warm day. It goes perfectly with taco night!
Servings
:
8
short glasses
Instructions
Bring water to a boil in a kettle on the stove.

Add 4 cups hot water to a 4 cup Pyrex measuring cup. Add the tea bag(s). Cover and let steep for about 15-20 minutes. It should be a nice dark red color.

While you're waiting, make a simple syrup: Put 1/2 cup sugar into a 2-cup glass pyrex and add 1 cup of the hot water. Stir to dissolve sugar.

Squeeze lime juice into your pitcher. Add simple syrup. Once tea is done steeping add that to the pitcher and stir.

At this point you can make more simple syrup if you would like it sweeter.

Fill pitcher with a few handfuls of ice.

Add a wedge of lime to your glass and a sprig of mint for extra zing!
Nutrition Facts
Hibiscus Iced Tea (Agua de Jamaica)
Amount Per Serving (1 g)
Calories 60
* Percent Daily Values are based on a 2000 calorie diet.
More Mexican recipes you may like