Lemon, Garlic + Fresh Herbs dress this one-pot Greek Pasta Salad with creamy French feta cheese, olives, artichokes and ZUCCHINI!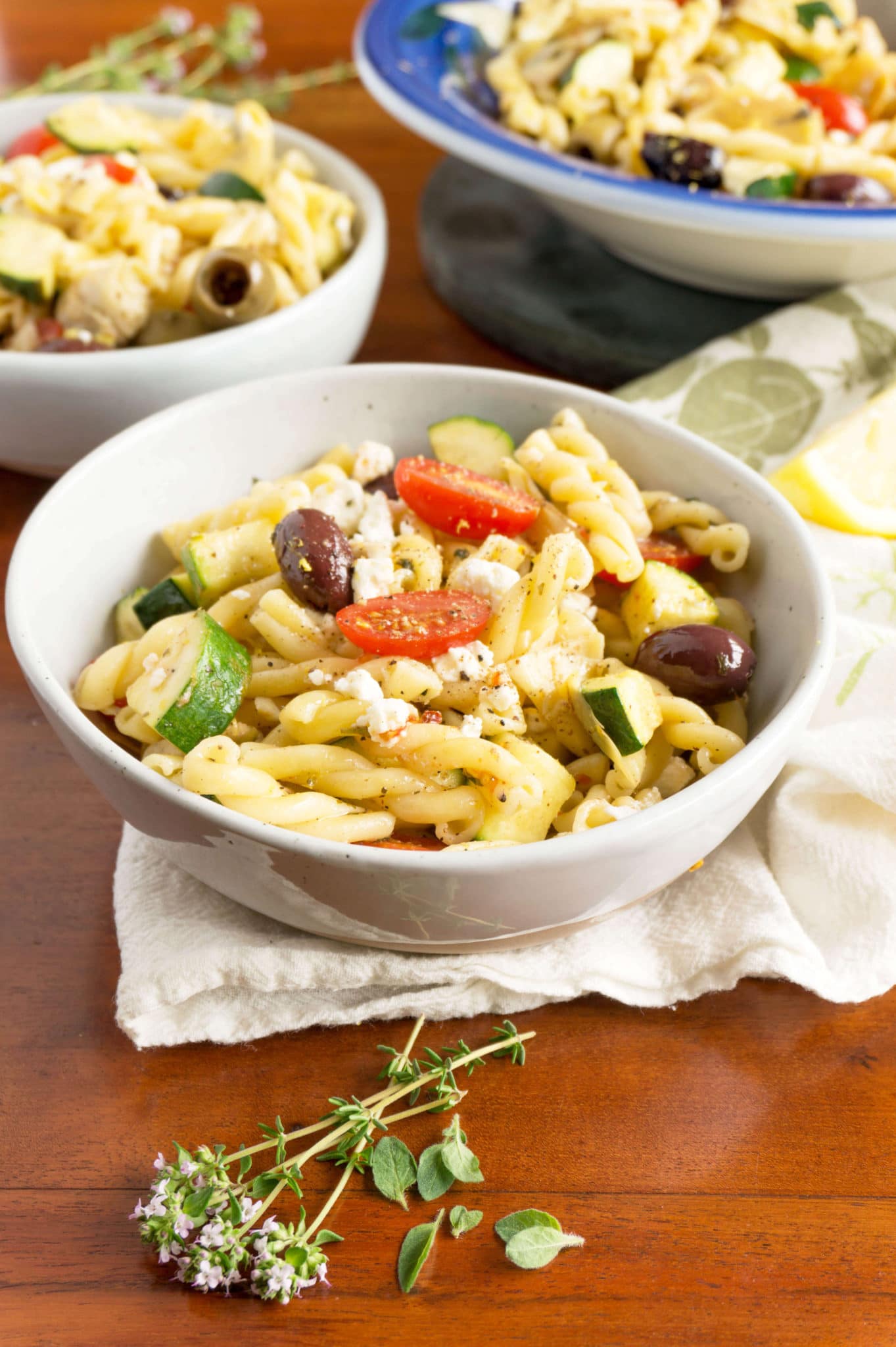 With lots of fresh perennial herbs popping up in my garden I set a goal to utilize them better than I have in past seasons.
Several herbs bounce back fairly quickly in the spring – mint, oregano and thyme. I use mint to brighten up smoothies – try this mint-strawberry smoothie – and I also bake fresh chopped mint into chocolate chip cookies – this chocolate chip cookie recipe is my favorite base to work from.
It's the Greek oregano that usually doesn't get much attention from me. It has pretty little blooms, but I hardly used it last year. I just didn't know how!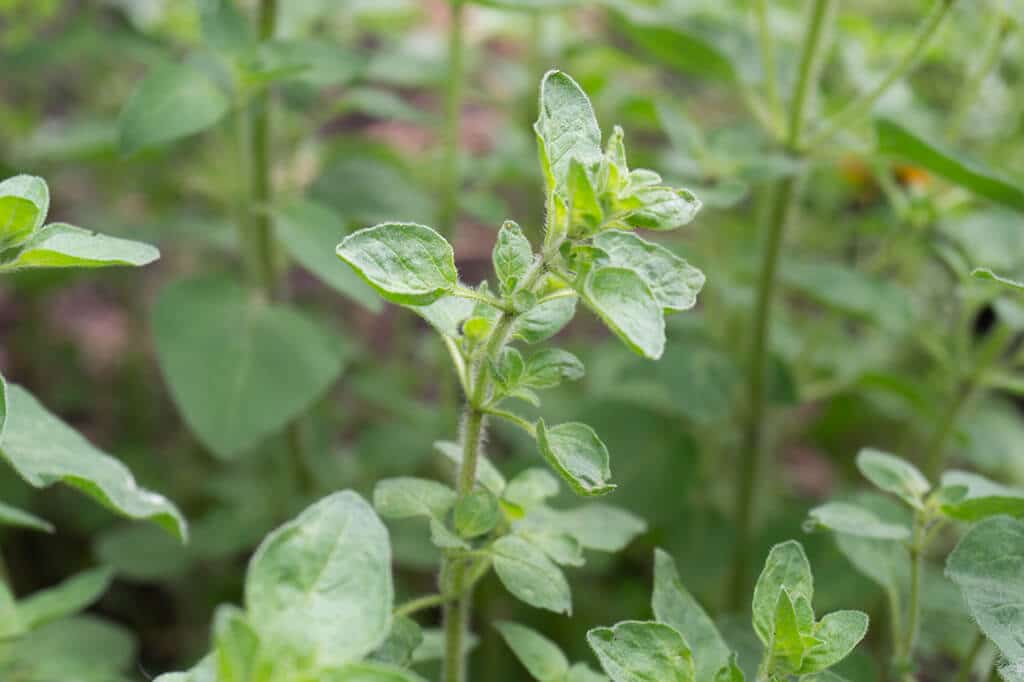 Most commonly, oregano is used as a dried herb. And you could use it dried in this recipe if it's all you have to work with. Oregano is just as flavorful dried as it is when fresh. Drying fresh oregano is easy – just snip the stems and let the branches sit – aerated – in a shady spot until completely dried out.
Need some ways to use fresh oregano?
Here are a few ideas:
pizza:

yum, pizza
mexican dishes: did you know there are different types of oregano? try using Mexican oregano in any Mexican style dish – you'll love it!

chicken:

Have you tried Cornell Chicken? recipe here

beans:

add 1-2 tbs of fresh oregano to a pot of simmering home-cooked beans about 30 minutes before they're completely cooked. The oregano will infuse the beans with a herby, earthy flavor.

tomatoes:

fresh tomatoes, drizzled with olive oil, fresh oregano and salt + pepper. Simple is amazing.
pasta: 

this greek pasta salad below!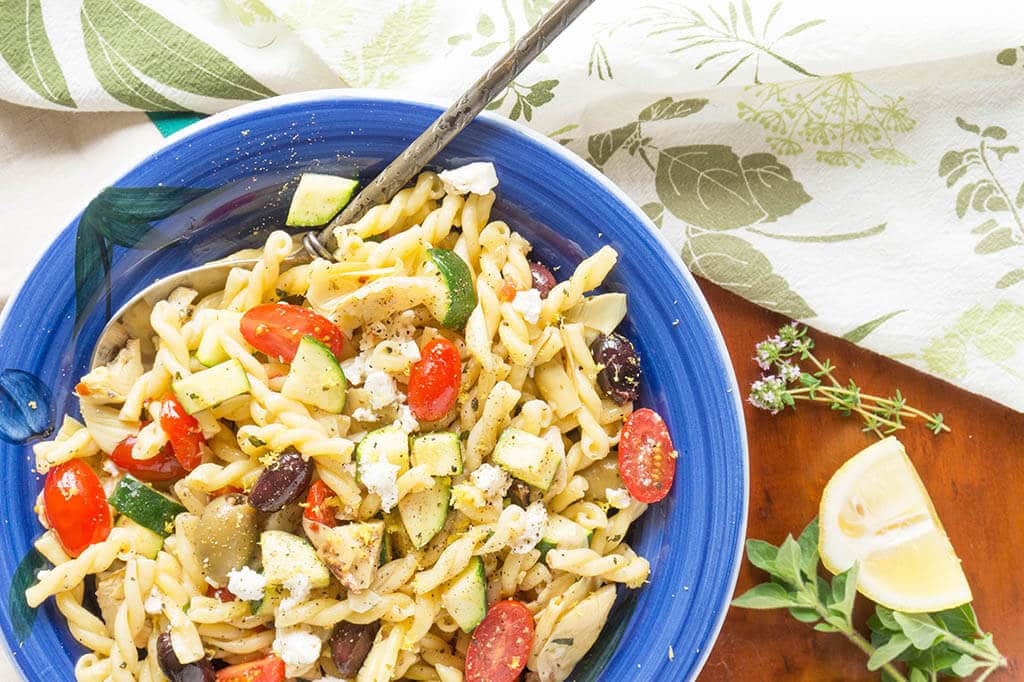 Greek Pasta Salad with Zucchini + Fresh Herbs
This summer pasta has subtle lemon + herby notes paired with fresh garlic and salty olives. It's packed full of flavor!
Keyword:
greek pasta salad
Ingredients
2

cups

uncooked pasta (regular or gluten free)

1/4

cup

olive oil

2

Tbs

minced garlic

4 cloves, more to taste

2

Tbs

fresh or dried oregano

finely chopped

1

Tbs

fresh or dried thyme

1/2

tsp

Kosher salt

freshly ground pepper

1/8

tsp

red pepper flakes

Zest of 1 large lemon + juice of 1/2 large lemon

1

cup

cherry tomatoes

halved

2

cups

zucchini

quartered & diced (keep the pieces thick so they stay firm)

1

cup

marinated artichoke hearts

chopped

8-10

marinated olives

pitted

1/2

cup

crumbled French feta

to top
Instructions
Cook pasta according to package instructions.

While the pasta is cooking, heat olive oil in a large sauté pan over low heat. Add garlic, oregano, thyme, salt and ground pepper + red pepper flakes. Stir to blend and let sit on a low flame while the pasta cooks.

With 5 minutes left on the pasta, add zucchini to the sauté pan with the herbs + turn up heat to medium. Toss in pan to coat zucchini with oregano and sauté for a few minutes until just starting to cook - we want the zucchini to stay a little firm. (this is also a great way just to serve zucchini on it's own)

Turn down heat to medium-low. Add tomatoes,a dash of salt and pepper and heat though for 1 minute.

Drain pasta and add to sauté pan. Add artichokes, olives and juice of 1/2 of a large lemon. Sauté for 2 minutes until everything is incorporated and warmed. Season with salt and pepper to taste.

Top with feta, lemon zest, a drizzle of olive oil + serve.
Nutrition Facts
Greek Pasta Salad with Zucchini + Fresh Herbs
Amount Per Serving (1 g)
Calories 450
* Percent Daily Values are based on a 2000 calorie diet.
Sign up for the O&S e-Newsletter + follow me on Instagram, Twitter, Facebook, or Pinterest to get the latest!
You may also like these recipes