It's a dipping frenzy today with these Homemade Soft Pretzels and Kiki's Flustered Mustard. Coated with homemade everything bagel seasoning, these beauties are what dipping dreams are made of.
Have you noticed that mustard has become trendy?
It seems like everywhere I travel there is someone making artisanal mustard. On a recent trip to Asheville, NC, I enjoyed a jar of super spicy mustard from Asheville's LustyMonk.
Here in northeast PA, my friend Kristen has been making Kiki's Flustered Mustard for some time now and I've finally snagged a jar to try it out.
Kiki's Flustered Mustard
Kiki's is different from other mustards.
It has chickpeas mixed in! And if you've tried my roasted chickpea veggie sandwich, we all know that chickpeas make the best spreads and dips!
A plant-based protein-packed make your mouth happy jar of flavor! That's what happens when a fitness trainer and mustard get together. It gets a healthy boost of protein!
Kristen tells me that she is currently working on a special Pennsylvania blend and taste testers around the U.S. are cracking open the first test run of her magic mustard.
Kiki's is thicker than your typical mustard – it's a nice spreadable texture that makes it perfect for sandwiches. Right away you can taste the horseradish, but the sweet brown sugar immediately balances it out.
Oh horseradish. I have a story about horseradish.
Years ago I was at a fancy restaurant having a Christmas dinner with my boyfriend's family. It was a steak dinner. I was not an experienced steak eater and thought that the horseradish in the little bowl on my plate was sour cream.  I doused a piece of steak with a ton of it and proceeded to put it all in my mouth.  A huge amount of horseradish. Almost immediately my mouth began a revolt.
Act like everything is normal. Breathe. Do I spit it out? Don't panic.
I honestly don't remember what I did, but I don't eat steak and definitely watch out for that horseradish! In Kiki's the spices are perfectly balanced – guaranteed to make every mouth happy – even those scarred by previous horseradish experiences!
Della approves of this lip-smacking goodness.  Kristen's adorable dog Lincoln, approves too!
How to Make Homemade Soft Pretzels
STEP 1
STEP 2
STEP 3
STEP 4
These Homemade Soft Pretzels make an excellent snack and amazing sandwich too!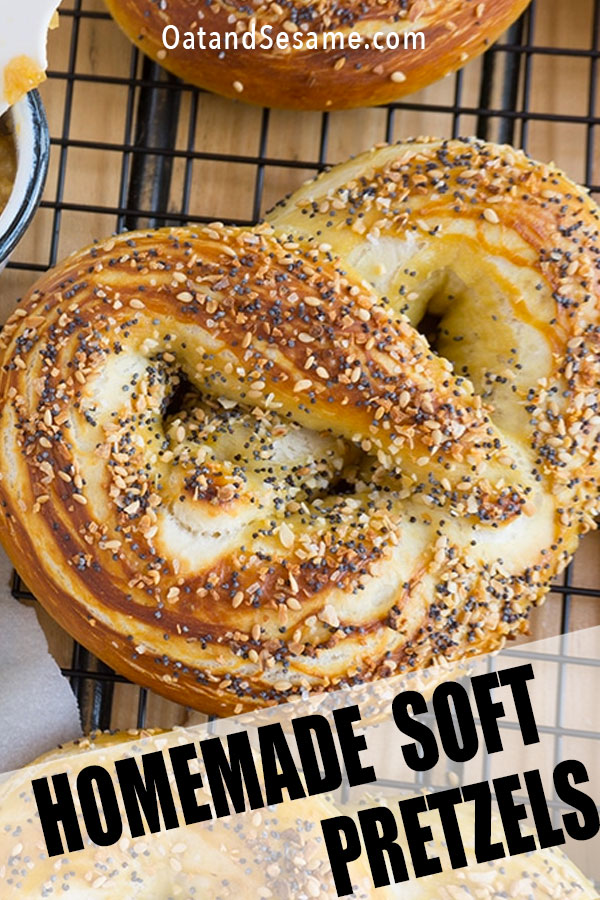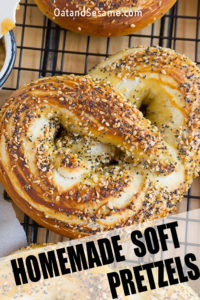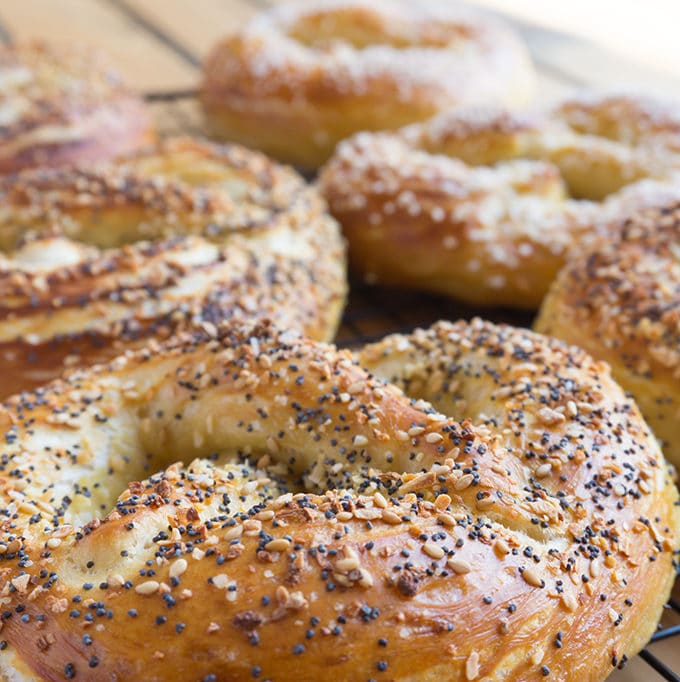 Homemade Soft Pretzels with Everything Bagel Seasoning
All your favorite spices from an everything bagel on a homemade pretzel. It's worth the effort, believe me.
Servings
:
8
large pretzels or lots of little bites
Ingredients
Everything Bagel Seasoning
Pretzels
1 1/2

cups

warm water

110 to 115 degrees F

1

tablespoon

sugar

2

teaspoons

kosher salt

1

package active dry yeast

4 1/2

cups

all-purpose flour

2

ounces

unsalted butter (1/4 cup)

melted

Vegetable oil

for greasing

10

cups

water

2/3

cup

baking soda

Egg wash: 1 large egg yolk beaten with 1 tablespoon water
Instructions
Everything Bagel Seasoning
Mix all seasoning ingredients in a bowl. Set aside.

Pretzels
In the bowl of a standing mixer, add sugar and kosher salt. Add in water and mix to dissolve. Then sprinkle the yeast on top. Allow to sit for 5 minutes or until the mixture starts to foam.

Slowly add the flour and melted butter (make sure the butter isn't too hot) and mix using the dough hook attachment. Mix on low speed until well combined.

Increase the speed to medium and knead until the dough is smooth and pulls away from the side of the bowl, approximately 5 minutes.

Transfer the dough to a bowl that's been greased with vegetable oil, cover with plastic wrap and place in a warm spot for approximately 50 minutes until the dough has doubled in size.

While you're waiting for the dough to rise, line 2 sheet pans with parchment paper and lightly brush them with the vegetable oil. And prepare your egg wash. Set both aside.

When the dough has risen, preheat the oven to 450 degrees F.

Bring the 10 cups of water and the baking soda to a boil in an 8-quart saucepan.

Then turn the dough out onto a lightly oiled work surface and divide into 8 equal pieces. Rolling each piece out into a long 24-inch rope.

Make a U-shape with the rope. Takes the two ends and cross them over each other and press them into the bottom of the U to form the pretzel shape. (you can also cut them into small bite sized pieces instead of a large pretzel shape.)

Place all the pretzels on the parchment lined sheet pans.

Once the water is boiling, add them 1 at a time, for 30 seconds each, into the boiling water.

Return them to the sheet pan, brush the top of each pretzel with the beaten egg wash and sprinkle liberally with the everything bagel seasoning.

Bake until dark golden brown in color, approximately 12 to 14 minutes.

Transfer to a cooling rack and then start dipping!
Notes
inspired by a recipe on Foodnetwork.com
Nutrition Facts
Homemade Soft Pretzels with Everything Bagel Seasoning
Amount Per Serving (1 g)
Calories 320
* Percent Daily Values are based on a 2000 calorie diet.
---
I was not compensated in any way for this post.  I did receive a free jar of Kiki's original mustard to enjoy with my pretzels.
More recipes you may like