Electric Beet Pizza Dough is colored by red beets which are worked into the dough for a magical beet pizza crust that only dreams are made of. Shape the crust into a heart for an impressive Valentine's Day pizza. 
When I saw this beet pizza I was pretty much blown away by the vibrant color. I had to make it.
Let's get something out in the open right away. You CANNOT taste the beets in the pizza crust. So don't object to beets in pizza dough!
It started my obsession with using beets to color all kinds of recipes. Here are a few other recipes using beets for color:
How to Make Beet Pizza Crust
Step 1: Roast Beets + Puree
There is some work that needs to be done in advance to make a beet pizza crust. You do need to roast beets and then puree them.
This can be done 1-2 days beforehand.
Or if you are lucky, maybe your grocery story sells roasted beets. In that case, you just need to puree them.
Step 2: Make Beet Pizza Dough
Again this step requires at least 2 hours of time. It can also be completed 1-2 days in advance. It's the fun part – getting to mix up your dough into this awesome pink color!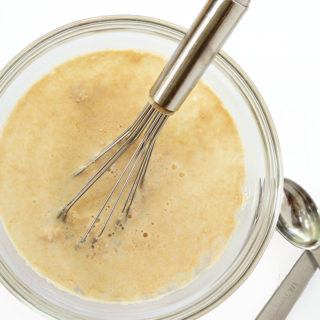 The color is so vibrant – making the dough is like creating a masterpiece from Play-Doh. Although Play-Doh doesn't quite stain your hands like working this dough does!
Step 3: Top Pizza and Bake!
Once your dough has doubled in size, divide the dough into 2 balls – refrigerating one for later!
Roll out between sheets of parchment paper. This method is great if you don't have a pizza stone or
pizza steel
and it's actually easier.
I have a pizza steel and the difference is marginal between the steel and the cookie sheet! 
Be sure to roll it out thin – the pizza should measure roughly 12 x 18. When rolled thin, you'll get a crisp crust.
Topping this beet pizza crust is where YOUR tastebuds come in. Layer on your favorite sauce, toppings and cheese.
I suggest a light layer of red sauce and/or pesto. A simple pizza sauce can be made in the same way I make my easy marinara sauce – except you don't need to cook it! Just add the ingredients to a blender (drain tomatoes first). Pulse all the ingredients until a sauce forms. Or whip up some spinach basil pesto sauce – when I don't have basil, I substitute all spinach or any green on hand!
Baking Steel – the ultimate pizza making tool
Electric Beet Pizza Dough
Adding beets to your pizza crust makes a vibrant pizza for any day - shape it into a heart just for your Valentine!
Ingredients
CRUST (makes two 12-in crusts)
1

cup

lukewarm water

2 1/4

teaspoon

active-dry yeast

3 3/4

cups

bread flour (or all-purpose for a chewier crust)

1 1/2

teaspoons

kosher salt

2

teaspoons

honey

3/4

cup

pureed beets

about 2 large beets, roasted and peeled
TOPPINGS
1

cup

tomato sauce or pesto or both

4

oz.

mozzarella

or your favorite melty cheese

your favorite veggies

(To make the pizza in the photo: 1 shallot, thinly sliced, 1 large sliced tomato, 1/2 cup roasted red peppers, spinach (2 large handfuls, chopped)

1/2

cup

grated parmesan cheese
Instructions
Prep Beets
Roast beets for 40-60 min @ 400°F degrees wrapped in foil. Peel and puree the beets. *Read this beet salad recipe for easy peeling techniques.
Beet Pizza Dough (makes 2 dough balls)
In a small bowl, stir water and yeast until combined.

In a large mixer bowl, add flour, salt, honey and pureed beets. Add water/yeast. Combine with a dough hook until dough starts to form a ball. If the dough seems too sticky, add 1 Tbs of additional flour at a time, until it's just a bit tacky.

Place the dough onto a lightly floured surface and prepare to have pink hands. Knead the dough until it is smooth. It will still be slightly tacky. Again add another 1 Tbs of flour if needed.

Make a ball and place in a lightly oiled bowl turning the dough once to coat in oil. Cover and place in a warm place for 1.5 to 2 hours.

Once doubled in size, divide the dough in half. The dough balls can be refrigerated for another day (lasts about 3-4 days) or frozen (thawed at room temp when ready to use). See Note.
Bake the Beet Pizza
Heat oven to 500°F degrees.

Roll the dough out between two sheets of greased parchment paper to about 1/4 inch thickness. Peel off top layer of parchment paper.

Top with mozzarella and layer veggies, tomatoes and sprinkle with 2/3 of the parmesan.

Slide the pizza on the parchment directly onto a baking sheet. Bake for 7 minutes.

Remove the parchment paper by wiggling the parchment from under the pizza so that the pizza sits directly on the baking sheet for the remainder of the bake time.

Bake for another 5 minutes or until edges are golden and cheese is melty. Remove from oven and sprinkle more parmesan.
Notes
*If you make the beet dough ahead of time, let sit at room temp for about an hour before rolling it out.
Nutrition Facts
Electric Beet Pizza Dough
Amount Per Serving (1 g)
Calories 388
* Percent Daily Values are based on a 2000 calorie diet.
More Recipes Selected for you!