Covered in fluffy coconut and dressed with a pink ribbon, this Easter Lamb Cake adorns the holiday side table waiting to be eaten at the end of the Easter feast. 
Every year my Aunt MaryAnn makes an Easter lamb cake.
I love that everything Easter takes the shape of a lamb – including the butter. It never seems right to have a rectangle stick of butter, so it definitely wouldn't seem right to have a regular cake. It must be a lamb!
Her cake mold is over 50 years old – purchased shortly after she was married – it continues to perform well for our Easter celebration. 
It's covered in fluffy white frosting and lots of coconut for a sweet addition to your Easter dinner.
Alternatives to Using a Cake Mold
Not all of us have a 50-year-old lamb cake mold. In fact, most of us don't.
The good news is that this Easter pound cake can also be made in a large 12 cup bundt or tube pan – double the recipe in this case. Of course it won't be a lamb, but still quite delicious.
Since we don't want the exterior to brown too fast, lower the temp to 300 F and bake for about 1.5 hours – keep an eye on it!
Tips for baking the perfect pound cake baking in bundt or tube pans:
Remove air bubbles.
Stirring batter mixes in air. By giving your batter-filled bundt pan a few taps on the counter, you'll release those air bubbles preventing holes in the middle or the center of your cake sinking.
Start with a cold oven.
Adding the pound cake to a cold oven and then preheating results in a dense moist cake – what you'd expect from a Sara Lee pound cake!
Read these Southern Living tips for making the perfect pound cake.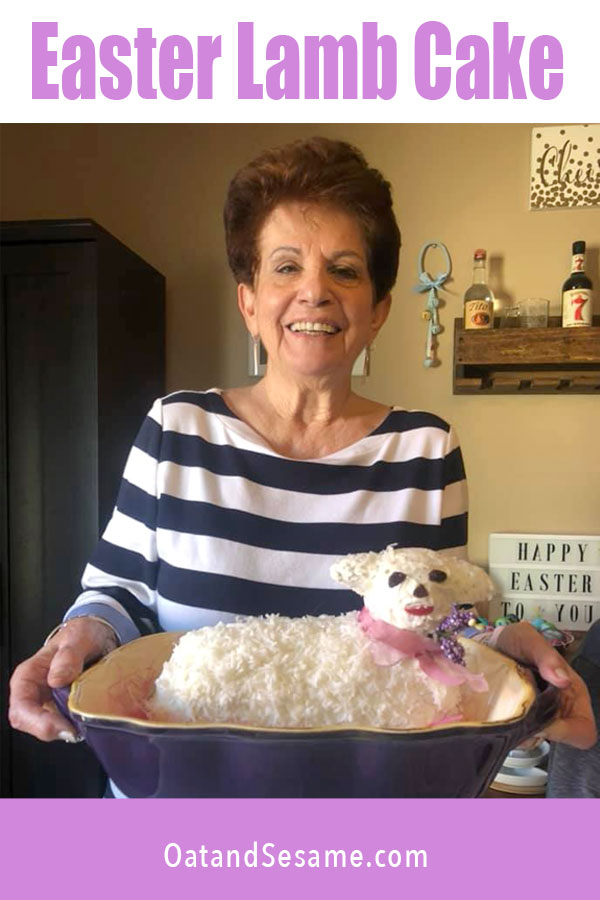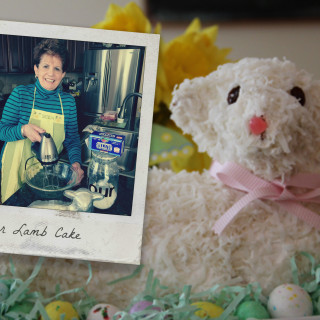 Easter Lamb Cake
An Easter pound cake baked in a mold and covered in fluffy frosting and coconut.
Ingredients
1.5

cups

all purpose flour

1

cup

butter, softened

(2 sticks)

1/2

lb

powdered sugar

3

eggs

1/2

teaspoon

vanilla
Fluffy White Frosting
1/2

cup

butter, softened

4 - 5

Tbs

buttermilk

16

oz

powdered sugar

1

tsp

vanilla extract (coconut extract is really amazing here too)
Instructions
Cream butter and powdered sugar together until light and fluffy. Scrape down the sides. Add eggs one at a time. Beat for just a moment and mix until each yolk is just mixed - don't over do it.

Gradually add the flour until just mixed. Mix in the vanilla.

Grease lamb

mold

on both sides with Crisco. Spoon cake batter into the face side of the pan mold and then add the other pan mold on top.

Place on a cookie sheet.

Bake at 350° F for one hour. Let cake cool in the mold for 30 min.

While the cake is cooling, prepare the frosting.

Once the cake is completely cool, cover with buttermilk frosting.

Sprinkle with shredded coconut. Use raisins for the eyes and nose and red jellybeans for the mouth. Finish with a pink ribbon around the neck!
Fluffy White Buttermilk Frosting
Beat butter at medium speed until creamy with an electric mixer.

Gradually add powdered sugar, beating at low speed until smooth.

Add vanilla and buttermilk. Increase speed to medium, and beat until smooth.

Additional buttermilk can be added 1 tsp at a time, until desired fluffiness is reached.
Notes
*This recipe is based on a heavy duty cake mold. Newer lightweight cake molds may require different baking times.
Nutrition Facts
Easter Lamb Cake
Amount Per Serving (1 slice)
Calories 306
* Percent Daily Values are based on a 2000 calorie diet.
More Easter recipes