These Apple Breakfast Crepes are light and fluffy. Topped with a cinnamon and cardamom spiced apple compote, this is a fool-proof crepe recipe that has been in my family for generations.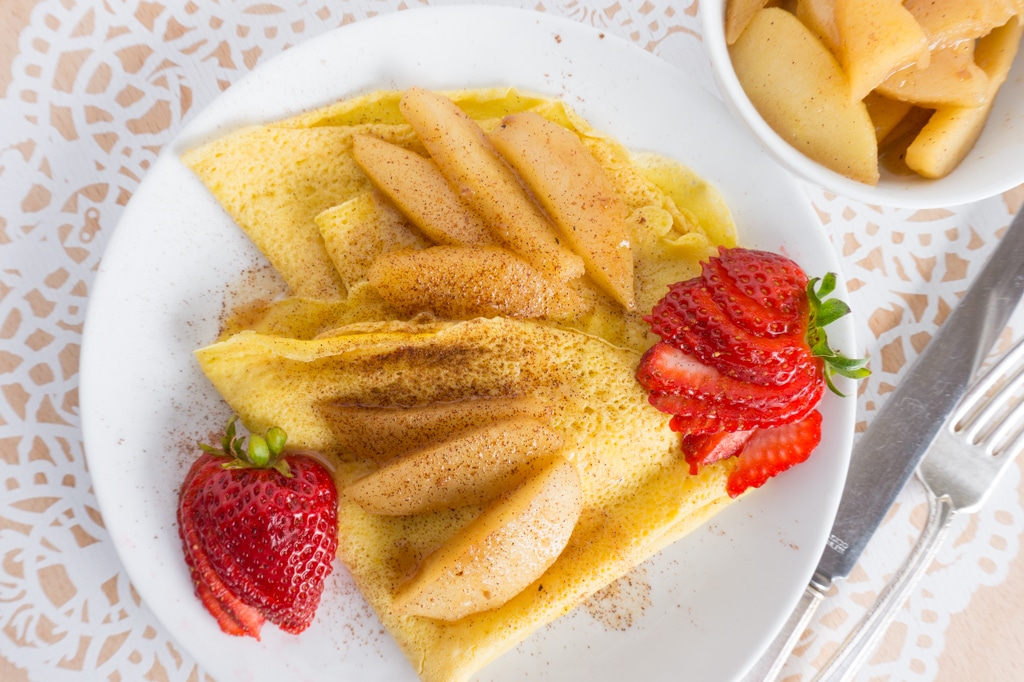 Inside of an old cookbook called Pirate's Pantry – treasured recipes of Southwest Louisiana – are some fantastic recipes. The cookbook was given to me by my husband's grandmother.
There are some interesting recipes in this book that make me cringe. Let me give you some examples: the Drunk Squirrel,  Gator Meat Balls or how about Dove and Squirrel Gumbo.
Yea, not touching those. 
But there are plenty of Cajun gems in there too.  Seafood dishes like Shrimp Etoufee, Blend of the Bayou, and Shrimp Pomme de Terre. I have yet to try most of them, but I am working on it. Like the Pink Squirrel – which is a cocktail and rest assured has no squirrel in it.
Besides all the Cajun goodness, there are plenty of staples – like these French crepes. Tender and light, they are perfect for both sweet and savory fillings.

No fancy crepe pan necessary – just a regular 12″ saute pan and a spatula. It might take a few crepes to get the hang of  the thickness and how to turn them easily, but no matter how thick or thin – they're delicious!
Tips for Fool-Proof Crepes:
Butter – use it to grease the pan, don't shy away from it. Use a non-stick pan for best results, but otherwise butter is your friend.
If you have time, let the batter rest for about 1/2 hour. This helps hydrate the batter and results in a little bit more lacey and delicate crepe. If you don't have time – that's fine – I make this all the time without waiting. I'm impatient!
Allow yourself a few practice rounds – technique takes time! Making them a bit thicker on your first attempts will make it easier.
Make Lemon Sugar crepes – my favorite! Sprinkle the finished crepe with fresh lemon juice followed by powdered sugar. It's so good! Had them this way in Morocco!
---
Breakfast Crepe ideas
SWEET BREAKFAST CREPES
nutella and bananas and/or strawberries

sliced fruit (peaches get my vote) and mascarpone
any fruit compote (recipe above)

jam and sour cream

sprinkle powdered sugar + lemon juice with fresh blueberries
SAVORY BREAKFAST CREPES
sauteéd mushrooms + spinach and gruyere

sliced tomatoes, basil and fresh mozzarella

sauteéd spinach and ricotta cheese

roasted red peppers, marinated artichokes + hummus

eggs, bacon bits and cheddar cheese with green onion
---
Apple Breakfast Crepes
Soft and buttery crepes topped with cinnamon and cardamom spiced apples.
Ingredients
Apple Compote
4

small/medium apples

peeled, cored, and cut into 1/2" slices (I used 2 granny smith and 2 pink lady)

2

tablespoons

sugar

¼

teaspoon

freshly ground cardamom

¼

teaspoon

ground cinnamon

¼

teaspoon

ground ginger

¼

teaspoon

kosher salt

3

tablespoons

unsalted butter or coconut oil

½

cup

apple cider

1

tablespoon

fresh lemon juice
French Crepes
4

eggs

1

cup

all purpose flour, sifted

1

tsp

Kosher salt

1

cup

whole milk

(options: almond, soy or coconut milk)

1/2

tsp

vanilla extract

3

Tbs

butter

(options: coconut oil or non-dairy butter)
Instructions
Apple Compote
In a medium bowl, combine all the spices, sugar and salt.

Add the sliced apples and turn to evenly coat with the spices.

In a large skillet, melt the butter or coconut oil over medium-high heat. Once melted, add the fruit mixture and cook, stirring occasionally for 7-10 minutes until the fruit is starting to brown on the edges.

Add the apple cider to the skillet and reduce heat to low. Simmer until the apples are tender, but not falling apart - 15–20 minutes - stirring occasionally. Add a couple tablespoons of water if there is not enough liquid in the pan.

Once the fruit is tender, let it cool slightly and stir in lemon juice.
French Crepes
Beat eggs, flour and salt in a bowl. Set aside.

Melt the butter over medium heat in the same saucepan you intend to cook the crepes in.

Add the milk and vanilla to the egg/flour mixture - mix to incorporate.

Slowly add the melted butter from the saucepan into the mixing bowl, whisking as you go. 

If you have time to let the batter rest for 30 min, it will result in more tender crepes, but skipping this is no problem - I skip this step all the time!

Cook about ⅓ cup of batter at a time for each crepe. Pour the batter in the saucepan and quickly swirl it around into a thin layer coating the entire bottom of the pan. The crepe should take about 30 sec to 1 minute to cook depending on your thickness.

Once the edges start to look a little crisp and tiny bubbles form throughout the crepe that side is done. Pick up the edges and slide a spatula under it to flip it and cook the second side about 15 seconds. Many recipes don't flip it, but I do!

Top with fruit compote, a dash of cinnamon or powdered sugar. If making a bunch at once, separate each with a piece of parchment paper and keep warm in the oven.
Notes
The apple compote can be made ahead of time.
Inspired by a recipe in BonAppetit.
*This recipe tastes the best using real butter. Resist the temptation to reduce the amount of butter called for in the recipe - the pan needs to have a good layer of butter to prevent the crepes from sticking.
Nutrition Facts
Apple Breakfast Crepes
Amount Per Serving
Calories 470
* Percent Daily Values are based on a 2000 calorie diet.
more breakfast recipes for you