Have you ever wanted to gather up all your favorite recipes and make a cookbook? Here's your chance!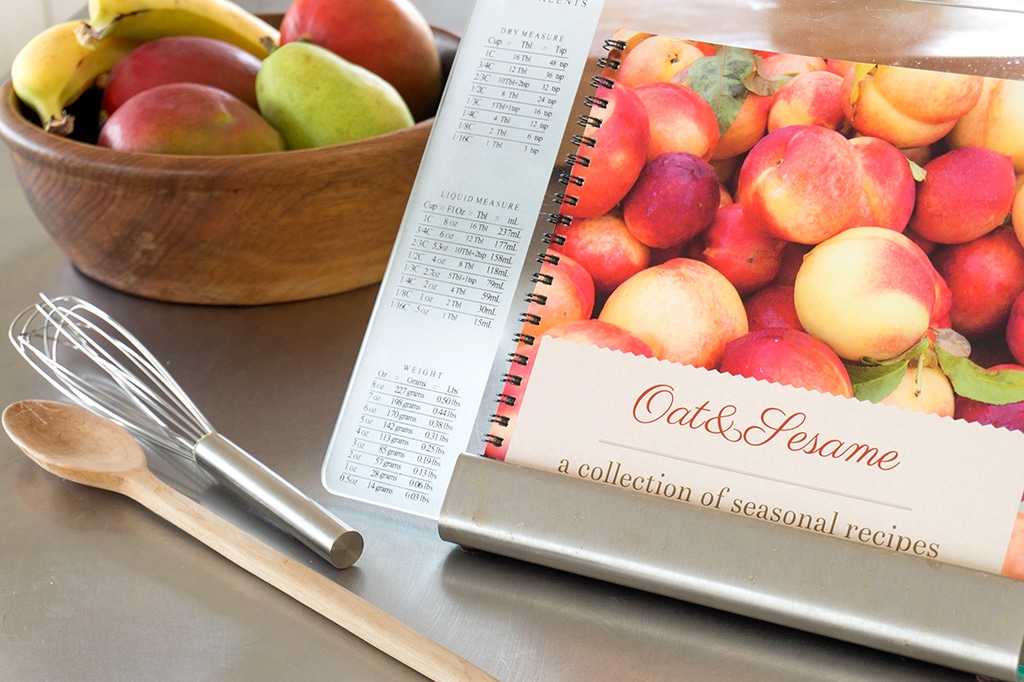 Oat&Sesame has partnered up with Cookbook Create to give away one, 28-page cookbook, personalized to your own specifications! Will that lucky reader be you?
Cookbook Create is an online community where you can collect, organize and share recipes to publish your very own cookbook. You can choose your own favorite recipes or select recipes from the community database. Then customize your book with family photos, vacation photos, pet photos, etc.
It's a perfect way to actually print out some of those digital images that are just stuck on your phone or computer. A memory book for the fun times you've had this past year – which for me always includes eating! I love old family photos – my grandma pictured top left and my aunt to right looks so much alike in their poses taken years apart!
Around this time of the year I'm scrambling to come up with unique ideas for Christmas gifts. Especially for parents, aunts, in-laws, etc.! I never know what to get them and I always want to make it something thoughtful. I'm not fond of gift cards – there's no gift giving in that! A personalized cookbook is a perfect way to share memories and make new ones while cooking up some great recipes.
I chose to highlight my favorite Seasonal Recipes from the blog this year as well as family dessert recipes for the holidays. It was fun to choose my favorite photos from my dabbles in photography this year and see my year in recipes come to life in book form. Look at me so happy browsing my cookbook creation!
So why is Cookbook Create different than other online sites that offer customized cookbooks? As a person who worked in printing and graphic design for years, there are two reasons I think Cookbook Create stands out from the rest:
Recipe Community. Cookbook Create has a recipe community, which means you can add your own or use any community recipe for your own cookbook or mix in a little of both. If you are a newbie in the kitchen, you can make a cookbook entirely out of these community recipes, including Oat&Sesame recipes. It also means that if someone you love likes a particular food, let's say chocolate chip cookies, you could select a collection of community chocolate chip cookie recipes and make them a cookbook full of them!

Book Builder.

 Cookbook Create has an awesome platform to build your cookbook. You can change fonts, colors, add photos – everything is customizable. And if you get stuck, they have an amazing customer support system to help walk you through any bump in your cookbook creation.
This giveaway has ended.
---
DISCLAIMER | OatandSesame was not compensated in any way for my opinions –  I did receive a free cookbook for myself and for the giveaway above. All opinions are my own.