As a huge fan of beets, I wanted to bake with them. You may think this Chocolate Beet Loaf is strange or some new age food blogger fluff. I dare you to search your great aunt's or grandmother's recipe box. Or go to the library and pick up an old cookbook. I guarantee you'll find PLENTY of baking recipes that use chocolate and beets.
Can you bake with beets?
The simple answer to this question is yes! 
Searching my grandma's stack of recipe cards I found a recipe for chocolate beet frosted cake! I modeled this beet bread recipe after one of my pumpkin bread recipes – finishing it with a sprinkle of fancy pearl sugar – which I usually use during the holidays to mimic snow (like in this cranberry bread recipe). Pearl sugar is amazing because it doesn't melt away in the oven! 
Here are some other ways to bake with beets:
Chocolate Beet Orange Brownies
How to make Chocolate Beet Loaf
This sweet beet bread recipe proves that beets are just as versatile as apple or pumpkin puree. Roasted beets have a mild flavor that adds moisture to baked goods similar to apple sauce or pumpkin.
Now that I've established that the idea of baking with chocolate and pureed beets has been together for a long time and that this beet bread is super yummy – you can try this recipe.
Step 1: Roast Beets, Peel and Pureé
Beets take about an hour to roast in the oven. See this beet recipe for instructions on how to roast beets. Once they are cool enough, peel and pureé the beets.
Step 2: Whisk together sugar, oil, beets and eggs
Mix these ingredients well!
Step 3: Add all other ingredients
HOORAY for 1 bowl quick bread!
How to make food coloring from beets + will beet food coloring make my baked goods pink?
You might think that baking with beets will produce a nice pink colored muffin. The truth is that there is a chemical reaction when baking with beets that causes that beautiful deep red color to fade to a light brown yuck. Typical baking ingredients like baking soda and cocoa powder are responsible for that change in color.
I tried to make beet pancakes once for Valentine's Day and it wasn't quite as festive as I thought it might be. 🙁
In this chocolate beet loaf recipe, the change in color doesn't matter as it's hidden by the dark chocolate color.
HOWEVER, you can use beet juice as a natural food coloring for many other recipes – see my pink tortilla recipe for instructions on how to make beet food coloring. Other applications include frostings, juices, pasta, etc.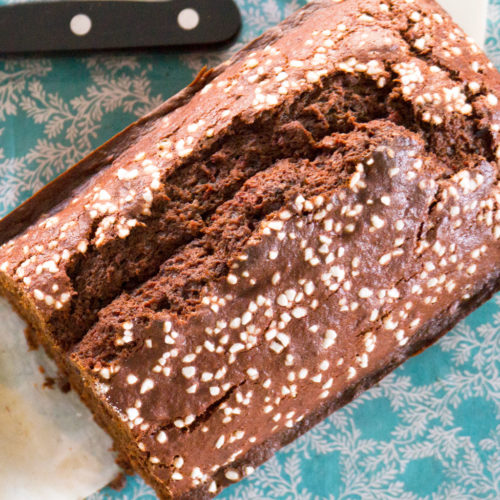 Chocolate Beet Loaf
This sweet beet bread recipe proves that beets are just as versatile as apple or pumpkin puree. Roasted beets have a mild flavor that adds moisture to quick bread.
Servings
:
1
loaf, 12 slices
Ingredients
1 1/2

cups

granulated sugar

1/2

cup

coconut oil

2

large eggs

1

cup

pureed red beets

1 bunch, about 3 medium beets

1/2

teaspoon

salt

2

cups

all-purpose flour

3/4

teaspoon

baking soda

1 1/2

teaspoons

cinnamon

1/2

teaspoon

ground clove

zest of 1 orange

4

tablespoons

unsweetened dutch cocoa powder

3

tablespoons

almond milk

6

ounces

half a bag bittersweet, semisweet or white chocolate chips

pearl sugar

optional topping
Instructions
Prepare the beets: roast beets for 1 hour in a 400 degree oven until tender. Cool, peel and puree. This can be done a day ahead of time.

For the cake, move the oven rack to middle position and preheat oven to 350°F.

Line an 8- by 4-inch loaf pan with parchment paper so that the edges of the paper hang over the sides. Grease the unlined section of pan.

Whisk sugar, oil, beet puree, eggs, zest and salt in a large bowl until combined. Add flour, baking soda, cinnamon, clove, cocoa and milk. Whisk until completely combined. Fold in chocolate chips.

Spoon batter into pan. Sprinkle top with pearl sugar.

Bake until top is just set and skewer inserted into the center comes out with some moist crumbs. 65 to 75 minutes. Let cool in pan and then transfer to wire rack.
Nutrition Facts
Chocolate Beet Loaf
Amount Per Serving (1 g)
Calories 340
* Percent Daily Values are based on a 2000 calorie diet.
More Ways to Use Beets