A combination of amaretto soaked cherries, almonds, white chocolate and sake, these Cherry Blossom Biscotti are light and crisp. Perfect for dunking in a hot green tea while enjoying the spring weather!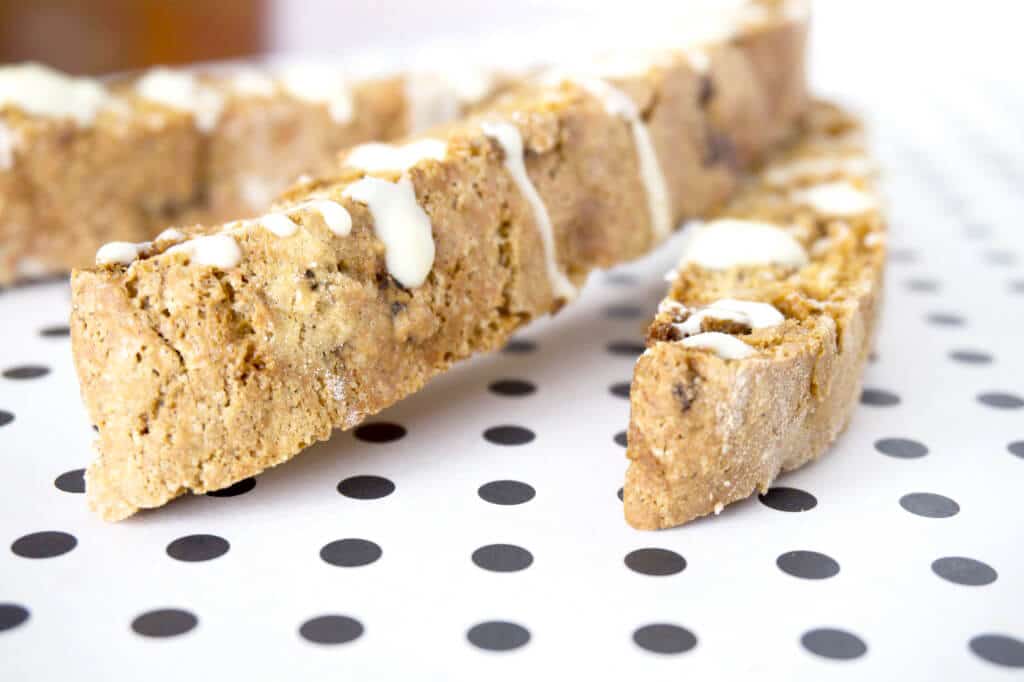 April is cherry blossom month.
A few years back we were lucky enough to spend a few weeks traveling around Japan admiring the cherry blossoms. I've traveled to a lot of places, but Japan really felt like another world.  Walking around while tiny pink petals fell all around you added to that sense of awe.  It's one of my favorite places ever.
The photo below is Himeji Castle – an amazing castle that was just a short train ride from Kyoto. The cherry blossoms were absolutely stunning here.
This year a friend of mine is returning to Japan after spending three years studying at the university I work for. It's a bittersweet cherry blossom season for us, but I know we'll be back to Japan one day to visit her.
As an ode to the season, to Japan, to friendship…we'll enjoy some green tea with cherry blossom biscotti.
Cherry Blossom Biscotti
A traditional biscotti recipe with the flavors of spring! Cherries + White Chocolate!
Ingredients
2

eggs

2

cups

flour

1/2

tsp

baking soda

1/2

tsp

baking powder

1/4

tsp

salt

1

cup

sugar

1

tsp

vanilla

1/4

tsp

almond extract

2

tbsp

sake

Up to 4 tbs water

1/3

cup

blanched almonds

toasted

1/2

cup

whole almonds

toasted and chopped

8

ounces

white chocolate

2 Ghiradelli baking bars*, cut into small chunks (1 bar for melting, 1 bar for mixing into the biscotti)

1/2

cup

dried tart cherries

soaked in amaretto then chopped

1

tsp

coconut oil or vegetable oil

amaretto
Instructions
Soaking the dried tart cherries in amaretto for at least an hour is recommended to enhance flavor and soften them. Chop into bite size pieces.

Toast the two sets of almonds on separate cookie sheets. See notes for toasting recommendations.

Heat oven to 375°.

Grease large sheet pan.

Sift flour, baking soda, baking powder, salt, and sugar together.

Transfer 1/2 cup of the mixture to a food processor and add the toasted almonds.

Grind until fine and powdery (about 45 sec).

Add dry ingredients.

Add chopped cherries, chopped whole almonds and white chocolate chunks. Mix together.

Whisk eggs, extract, and sake together. Add to dry ingredients and mix. If too dry add 1 tbsp water, up to 4 tbs.

Turn dough onto floured surface (flour your hands too) and cut into 2 pieces.

Press out to 5x13x1 flattened logs. Don't be afraid to use extra flour to keep the dough from sticking to your surface.

Transfer logs to pan. Bake 25-30 min. Rotate pan after 15 min.

Let cool 30 min.

Reduce temp to 300° and cut logs diagonally with serrated knife. It's easiest to line up your knife and press down to cut rather than trying to slice back and forth.

Grease pan again. Lay slices on side and bake 25 min. Let cool in oven.

Once cool, melt white chocolate with 1 tsp of coconut oil in a double boiler or very slowly in the microwave on super low heat. Drizzle chocolate over biscotti.
Notes
Toast blanched almonds at 350° for just a few minutes until they just start to take on a hint of toasty brown color. The whole almonds will take about 8 min.
*It's important to use the right white chocolate for drizzling on top. The Ghiradelli white chocolate chips and baking bar ingredients differ which makes a HUGE difference when melting chocolate. The ingredients list for Ghirardelli's Classic White baking chips includes no white chocolate, cocoa or cocoa butter making it a dry mess when you try to melt it for drizzling.
When melting chocolate, adding a bit of oil helps the chocolate remain smooth and liquidy for drizzling.
The ration of dry ingredients to wet ingredients is one aspect that affects the crispiness or hardness of biscotti. One egg per one cup of flour and 1 tablespoon of liquor per one cup of flour are a good guideline for creating your own biscotti variety.
Nutrition Facts
Cherry Blossom Biscotti
Amount Per Serving (1 g)
Calories 136
* Percent Daily Values are based on a 2000 calorie diet.