Perfect breakfast burritos for camping, these bundles of joy are filled with fluffy eggs, chipotle mayo potatoes, chicken sausage, bell peppers, green chilis and cheese. Do you need to be camping to eat these? Heck no!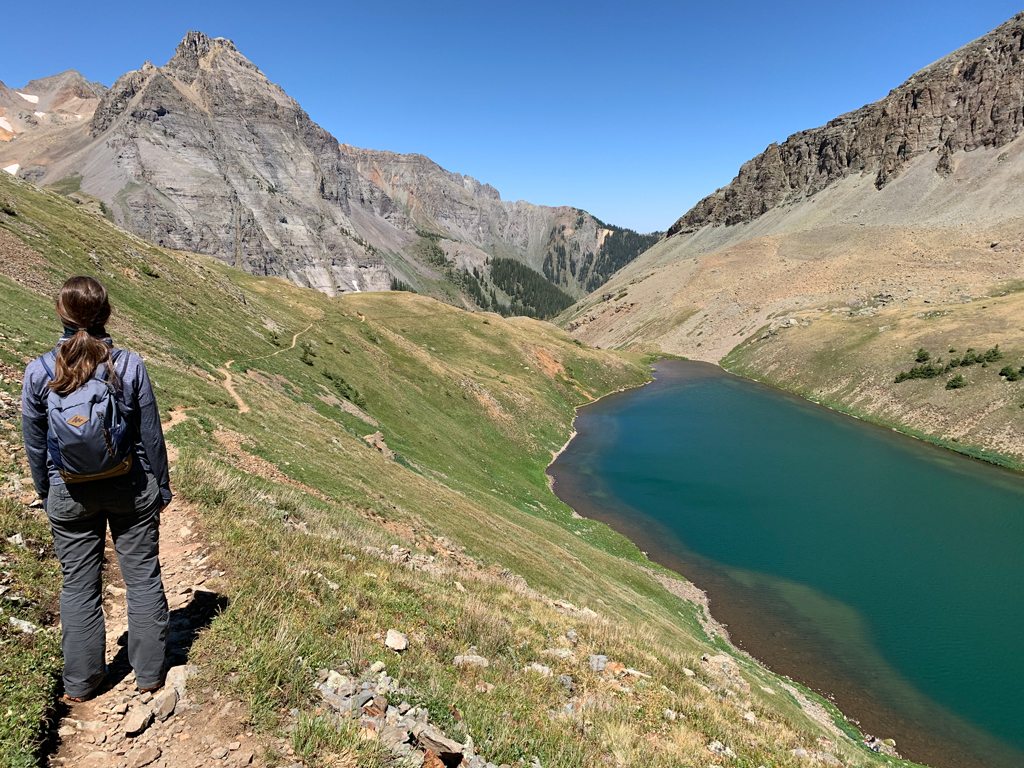 One of the highlights of this summer was an annual camping trip to Colorado. Naturally, my main responsibility is planning and preparing food. In that preparation, I try to keep it as simple as possible, but also as tasty as possible. I mean, there's roughing it and there's foodie "roughing it." The latter means we must have the proper deliciousness when camping.
Starting with breakfast.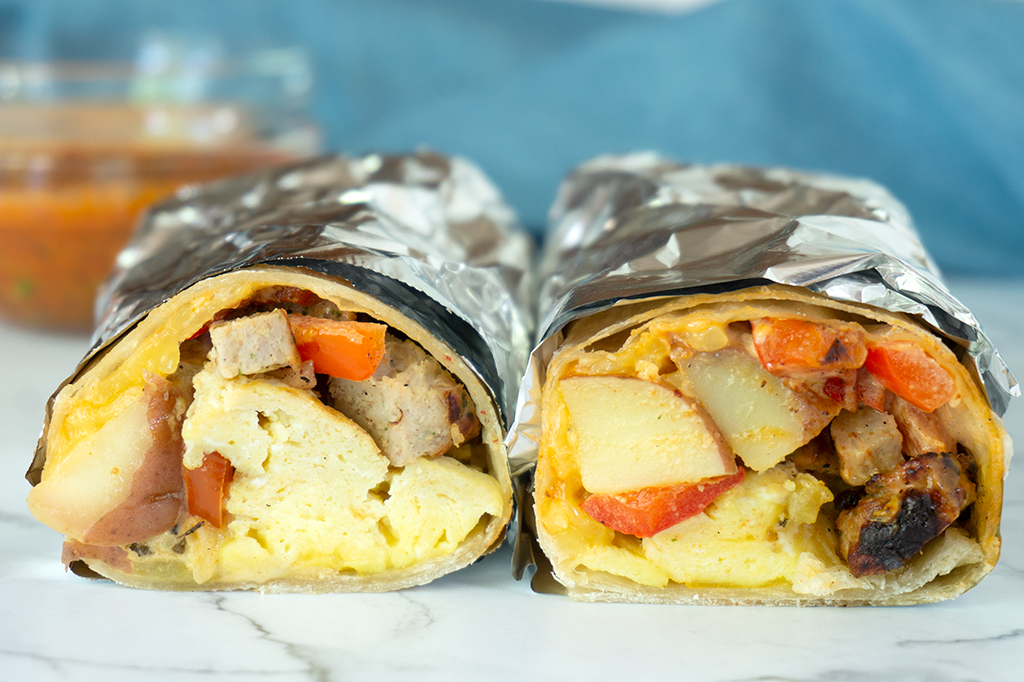 These breakfast burritos are not just for camping, but they happen to make a perfect camping breakfast. Bring a bottle of hot sauce or salsa, some of my favs are linked below, and you have instant gourmet right out of the tent!
There is nothing better than waking up in nature, brewing up some fresh coffee in a moka pot, and warming up these burritos. Total energy for the day. Served up with individual servings of fruit salad, all pre-made in mini ball jars – so convenient and water-tight!
Simply warm these burritos up on a camp stove, removing the foil first before placing them in a pan coated with cooking spray. Cover and toast each side until warm. Serve salsa on the side inside of including it inside the burritos to keep them from getting soggy during your travels.
You can make an insane stovetop salsa with just a couple tomatoes, serrano peppers, garlic, onion and cilantro, salt and pepper. Cast iron pans are perfect for it – heat up some oil, place all the produce on the skillet and sauté until everything is blistering and blackening. Then blend with salt and pepper and a handful of fresh cilantro. OMG. You'll want to drink it! I'll post a recipe tutorial on this too.
Some other homemade salsas you should try:
Some of you asked me for our Colorado Itinerary. Here it is!

Day 1: Drive to Colorado and camp near Trout Lake.
Day 2: Hike part of Lizard Head Trail. Drive to Blue Lakes Trailhead. Find campsite.
Day 3: Hike Blue Lakes Trail. Drive to Highland Mary Lakes Trailhead. Find campsite.
Day 4: Hike Highland Mary Lakes Trail. Drive home.
If you are not camping, you can still make a batch of these breakfast burritos for freezer burritos or to meal plan for the week. Let me tell you, we get out of bed quickly when we know there are breakfast burritos waiting for us!
How to Make Camping Breakfast Burritos
Making burritos is all about prepping the insides. The end result is worth your prep time.
Step 1: Make Potatoes.
Boiling the potatoes make them extra soft. That's how I like my breakfast burritos – soft and fluffy with a little cheese and salsa. Once they are tender, you'll toss the potatoes with chipotle mayo, green chilis, spices, and salt + pepper.
Step 2: Sauté Bell Pepper and Chicken Sausage.
Precooked chicken sausage make this quick + easy…just brown them up with diced red pepper and you have your savory fillings.
Step 3: Make Fluffy Scrambled Eggs.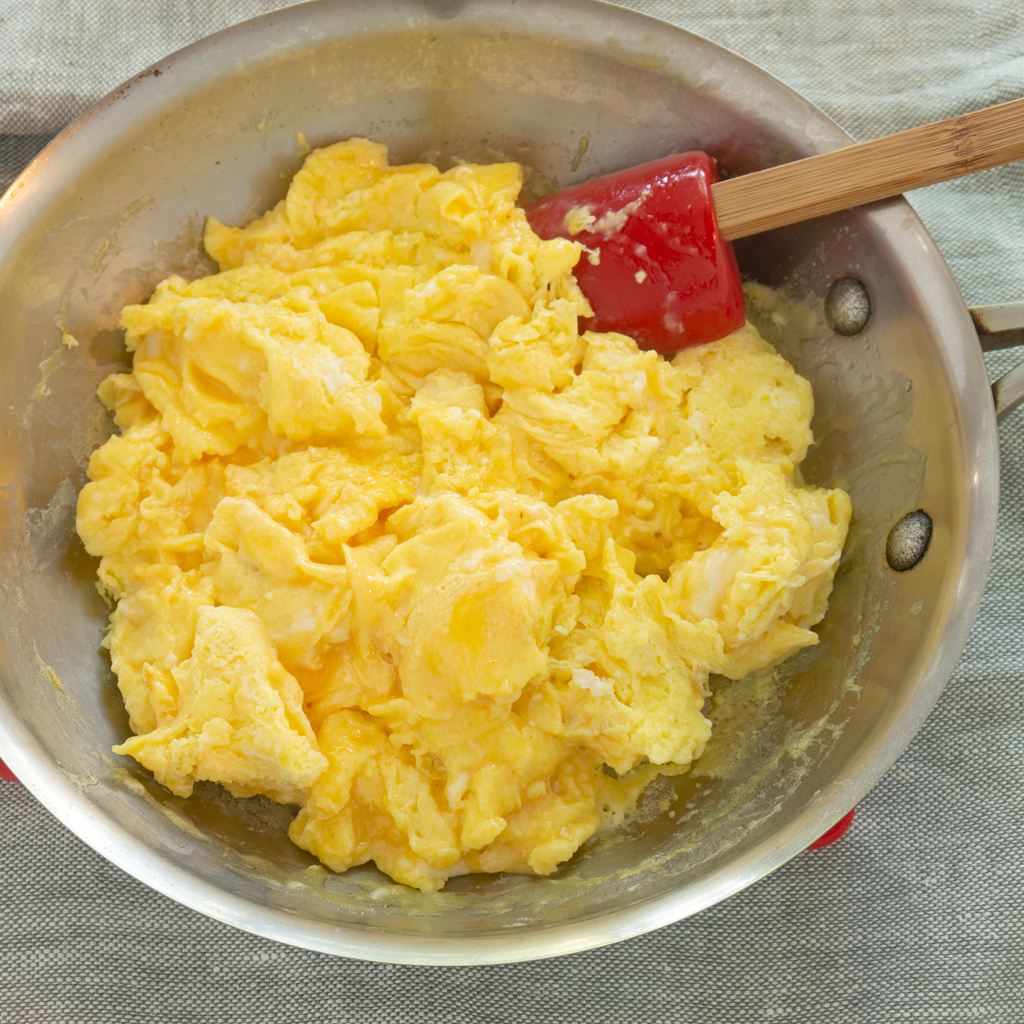 The secret here is all in the butter.
For fluffy eggs, you need to start with an excess of butter in the pan.
You'll want to stop cooking the eggs when they are on the wetter side. It makes a much better burrito.
Step 4: Assembly.
More chipotle mayo, shredded cheese, peppers, chicken sausage, potatoes, eggs…get it all in there! Tuck the sides and roll 'em!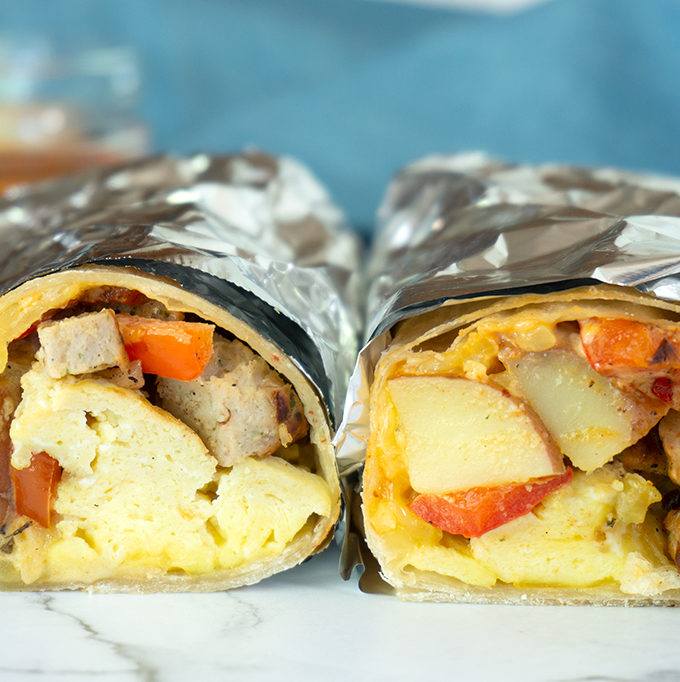 Breakfast Burrito
A perfect breakfast burrito for camping, these bundles of joy are filled with fluffy eggs, chipotle mayo potatoes, chicken sausage, bell peppers, green chilis and cheese.
Keyword:
burritos, camping breakfast
Ingredients
6

large tortillas

12

baby potatoes, quartered

1

recipe

chipotle mayo

(mayo, chipotle, lime)

4

oz

canned green chilis

1

tsp

garlic powder

1

tsp

Mexican oregano

Kosher salt + pepper, to taste

1/2

cup

shredded Mexican cheese (more if desired)

1

red bell pepper, diced

6

maple chicken sausage links

(I use pre-cooked Applegate farms)

2

Tbs

butter

9

eggs

hot sauce or salsa, to top
Instructions
Make Perfect Potatoes for Burritos:
Bring a large pot of SALTED water to a boil. Add quartered potatoes and boil until softened. About 12-15 minutes.

When the potatoes are fork tender, drain, add to a large bowl with drained green chilis, 2 Tbs of the chipotle mayo sauce, garlic powder, oregano, salt and pepper. Toss to coat. Set aside.
Prepare Chicken Sausage + Peppers:
In a large sauté pan, add 2 tsp of avocado oil and brown chicken sausage over medium-high heat, you can add the diced red pepper in the same pan and cook until softened. ~5 min.
How to Make Fluffy Scrambled Eggs:
Melt 2 Tbs butter in a large pan over medium heat. Add whisked eggs seasoned with salt and pepper. Stir and fold the eggs over themselves a few times as they cook ~ 3-5 min.

The butter is key to fluffiness. Not my normal, but the secret to fluffy egg burritos!
Ready to assemble:
Make sure your tortillas are warm and pliable. A few seconds in the microwave wrapped in a kitchen towel will do the trick!

First spread 2 tsp of chipotle mayo along the center of each tortilla.

Divide the other ingredients into 6 portions. Layer cheese, potatoes, chicken sausage, red pepper, and eggs.

Now the art to the burrito, fold in two sides and roll over. For tips, see this tortilla rolling video. Wrap in foil to secure.

Serve with hot sauce and/or salsa.
Nutrition Facts
Breakfast Burrito
Amount Per Serving (1 g)
Calories 570
* Percent Daily Values are based on a 2000 calorie diet.
breakfast recipes selected for you