This easy homemade bird seed cake tutorial will bring tons of wild bird to your yard at a fraction of the price! No more buying bird seed cylinders to fill your hanging feeders!
I bought this great bird feeder stand last spring. While I love it, I didn't realize how quickly the birds would eat through the seed cakes and how expensive the seeds cakes are.  I realized I could make these very easily using loose bird seed that I fill my other window feeder with.
I searched around and found a great recipe for making seed cakes of all shapes and sizes.  It would be a great activity for kids as well.
All you need is:
gelatin
flour
corn syrup
bird seed
It can be shaped into any mold pan and hung with a string as well.  I use a piece of extra metal gutter pipe with a 1″ PVC pipe stuck in the middle to create the center hole.  Be creative with what you already own!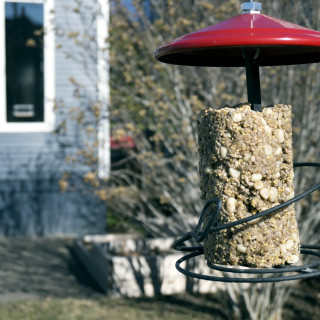 How to Make a Homemade Bird Seed Cake
Making your own bird seed cake is SO much cheaper than purchasing the $10 option!
Ingredients
3 1/2 to 4

cups

wild bird food

1/2

cup

boiling water

1

packet unflavored gelatin

3

Tbs

Karo syrup

1/2

cup

flour

non-stick cooking spray

a mold of some sort (jello mold, bundt pan, etc)

string, twine or yarn

a straw or pipe to make a placeholder for the hanging hole
Instructions
Spray your mold with cooking spray.

Mix the gelatin into the boiled water until dissolved. Turn off heat.

Add syrup and flour and mix well. It will form a sticky paste/batter.

Add seed into the mixture and work the paste in. (it may take a little muscle)

Spoon the mixture into your mold. Press down with your hands. It helps if you grease your hands first.

**If you plan to insert a string, only insert 1/2 the mixture into your mold. Push a straw through the seed mixture to the bottom of the mold.

Put mold into the fridge or freezer overnight to set.

Remove from the mold. Sometimes it needs to sit out for a few minutes to loosen up in the mold.

Remove the straw and add your string for hanging! Watch for birdies!
Nutrition Facts
How to Make a Homemade Bird Seed Cake
Amount Per Serving (1 g)
Calories 1
* Percent Daily Values are based on a 2000 calorie diet.