Every year I make small changes to my daily routine that will help our environment. Many of you probably already recycle or carry a reusable water bottle. Wondering what other products are out there? Well, I love new kitchen gadgets –  ESPECIALLY innovative products that make me feel good about using them. So I thought I'd share a great one with you!
One of my favorite sustainable products is Bee's Wrap.
Bee's Wrap | Live Sustainably with MightyFix
Bee's Wrap is a product designed by a woman entrepreneur who wanted to develop a food storage solution to reduce the amount of plastic her family used. So she invented Bee's Wrap! A reusable alternative to the rolls of plastic wrap you may be using now for your lunches and food storage.
Made from organic cotton muslin, beeswax, jojoba oil and tree resin – the combination of ingredients and the infused fabric create a malleable food wrap that can be washed, rinsed and reused. The wrap in my photos is new, but I've owned my original set going on 4 years now and they're just starting to wear out.
The wrap softens with the warmth of your hands and naturally creates a seal when you press it. As the beeswax cools, the material stiffens and hold the seal intact. Recycling plastic is great, but a better solution is to reduce the demand for plastic.  It can be used to wrap sandwiches, loaves of bread, cheese, etc. And it's super cute!
I'm telling you all about this because MightyNest is offering Oat&Sesame readers a special promo! 
Get Bee's Wrap with MightyFix – $3!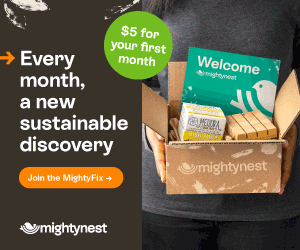 What is MightyFix? It's a great program offered by MightyNest – an online retailer of all things healthy and sustainable.
With a monthly subscription to their MightyFix program, you will receive a new sustainable product each month delivered to your doorstep.  It's like getting a surprise gift every month!
How it Works & How to Take Advantage of the Oat&Sesame Promo Code:
+ A subscription to MightyFix is $10/mo and each month subscribers receive an item valuing at least $10 and often more. MightyNest is offering O&S readers a special $3/mo rate for the first month of their new subscription PLUS you'll receive 2 sheets of Bee's Wrap (1 large/1 medium) as your first delivery.  That's a steal considering Bee's Wrap normally retails for $13 + shipping.
Use Special Promo Code: SESAMEBEESWRAPFIX
Use this link to add it directly to your cart.
+ Shipping on your MightyFix is always FREE*. As a bonus, every month you can add to your MightyFix order and those items ship free as well. details here
+ 15% of your $10/mo MightyFix and any other items ordered is eligible to be donated to a local school of your choice. Such a great way to give back! details here
+ Subscribe for any length of time – NO mandatory subscription period.
+ A perfect gift for the foodie in your life! I'm already thinking Christmas, birthdays…
+ Offer expires October 31, 2016
*Free shipping to US addresses only. Canadian and Australian MightyFix ship for a small fee. Full details here.
BE SUSTAINABLE. Browse MightyFix and Find Something Awesome!
---
Love Plant Based Recipes?
Follow me on Instagram, Twitter, Facebook, and Pinterest to get the latest!
---
This post was sponsored by MightyNest. All opinions are my own.
Thanks for supporting the brands that support the original content on Oat&Sesame.