Baked Pumpkin Spice Oatmeal gives you just another reason to make your own pumpkin spice blend and then enjoy it all season! Add the spice mix to coffee grounds before brewing and you're well on your way to a pumpkin spice latte!
Pumpkin. Sweetie. Honey. Cupcake.
All terms of endearment, most referring to sweets – one is a vegetable. I am unaware of any other vegetable in English that is also a term of endearment. The French do utilize the cabbage – mon petit chou – literally 'my little cabbage'. But I'm not French, so let's carry on. Wait! I thought of one – sweet pea. If you think of any other veggie terms of endearment – leave a comment!
Back to pumpkin. The quintessential fall flavor packed with betacarotene (vitamin A) and rich in fiber. I need no convincing to develop pumpkin insanity for the next 2 months.
First, let's start with pumpkin pie spice.  Easy to whip up at home with ingredients already in your spice rack.
---
HOW TO MAKE PUMPKIN PIE SPICE
This pumpkin pie spice recipe should be made every September so you can enjoy everything pumpkin spice in October!
It's a simple mix of cinnamon, ginger, allspice, nutmeg, cloves, and mace.
---
I always start my fall pumpkin spice bonanza with oatmeal. At least we can say we started out healthy before we move onto something like pumpkin pie sugar cookies.
A quick mix, 20-25 minutes in the oven and you're well on your way to a week's worth of pumpkin heaven. This pumpkin spice oatmeal bake is 
Baked Pumpkin Spice Oatmeal | GF + Vegan
A warm pumpkin spiced oatmeal bake for fall.
Ingredients
Pumpkin Pie Spice Mix Ingredients
5

tsp

ground cinnamon

2

tsp

ground ginger

1/4

tsp

ground nutmeg

1/8

tsp

ground cloves
Baked Oatmeal Ingredients
2/3

cup

rolled oats

4

Tbs

oat bran

4

Tbs

almond flour/meal

any flour works

1/2

tsp.

baking powder

1.5

Tbs

pumpkin pie spice

recipe above

1/4

tsp

salt

1/2

cup

canned pumpkin

1/2

cup

vanilla almond milk

1/2

tsp

orange extract/flavor

optional

1/4

cup

coconut sugar or brown sugar

2

Tbs

dried cranberries

2

Tbs

walnuts or pecan pieces
Instructions
Pumpkin Pie Spice Mix
Mix all ingredients together in a jar and store for a season of use!
Baked Oatmeal
Preheat oven to 375F.

Lightly coat a medium ramekin or two small ramekins with non-stick spray.

Combing the first six dry ingredients in a large mixing bowl.

In another small bowl, whisk together pumpkin, milk, orange extract and sugar.

Combine the wet into the dry and mix well.

Fold in the cranberries.

Place mixture into the prepared dishes and top with nuts.

Bake about 20 - 25 minutes until set. (smaller ramekins will shorten the bake time, doubling the recipe may increase bake time by a few minutes).

Drizzle with a bit of maple syrup and let cool for 5 minutes before enjoying.
Notes
This recipe is easily scalable; however the baking time may increase by 5-10 minutes.
recipe adapted from www.runningwithspoons.com
Nutrition Facts
Baked Pumpkin Spice Oatmeal | GF + Vegan
Amount Per Serving (1 g)
Calories 400
* Percent Daily Values are based on a 2000 calorie diet.
More seasonal oatmeal recipes >>THIS WAY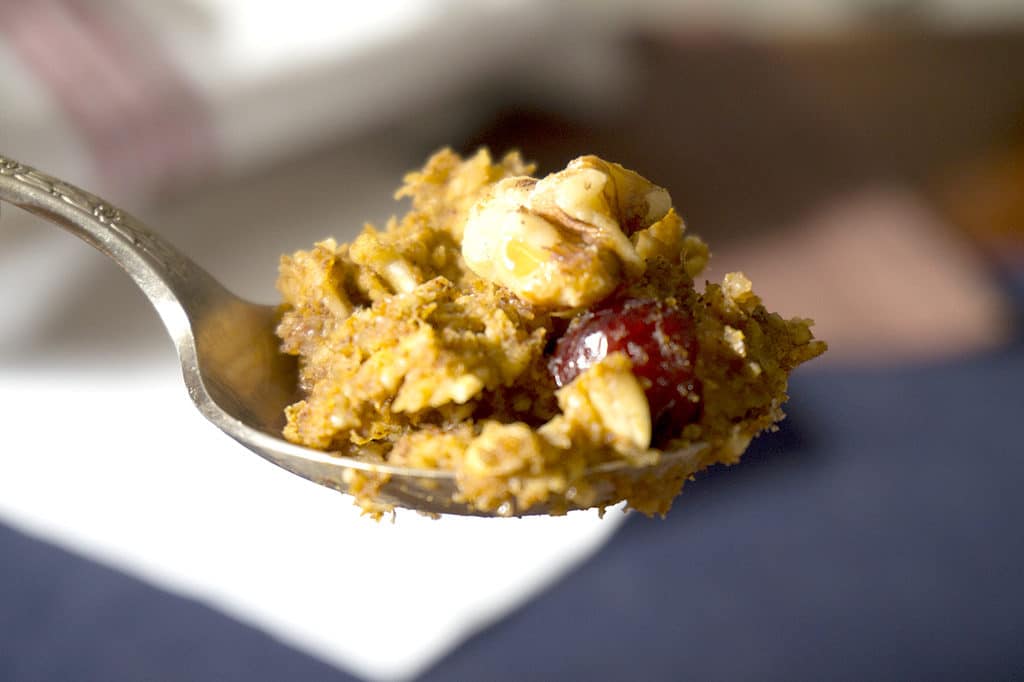 more pumpkin recipes