Angel Biscuits are mini biscuits that are soft and fluffy. The size makes them perfect for feeding a crowd and this biscuit recipe makes a lot! They can be made ahead of time, thawed and reheated when ready to serve.

How to make easy biscuits from scratch
This versatile roll can pretty much go with any meal. At just 2-3″ in diameter, you can make mini egg sandwiches, dunk them in a cup of warm soup or serve the alongside a three course meal. No matter when you serve them, you'll be appreciated as the bearer of fresh yeasty bread – the angel with the Angel Biscuits.
Angel Biscuits are also known as the "Bride's Biscuit." With three leavening agents in them – yeast, baking powder and baking soda – they are pretty much foolproof. So newbies to bread baking can dive right in. You can't go wrong! And if you need a step-by-step tutorial – check out my biscuit making class here.
---
How long do angel biscuits last?
These homemade mini biscuits will usually keep for a week. You can freeze the cooked biscuits for about a month.
---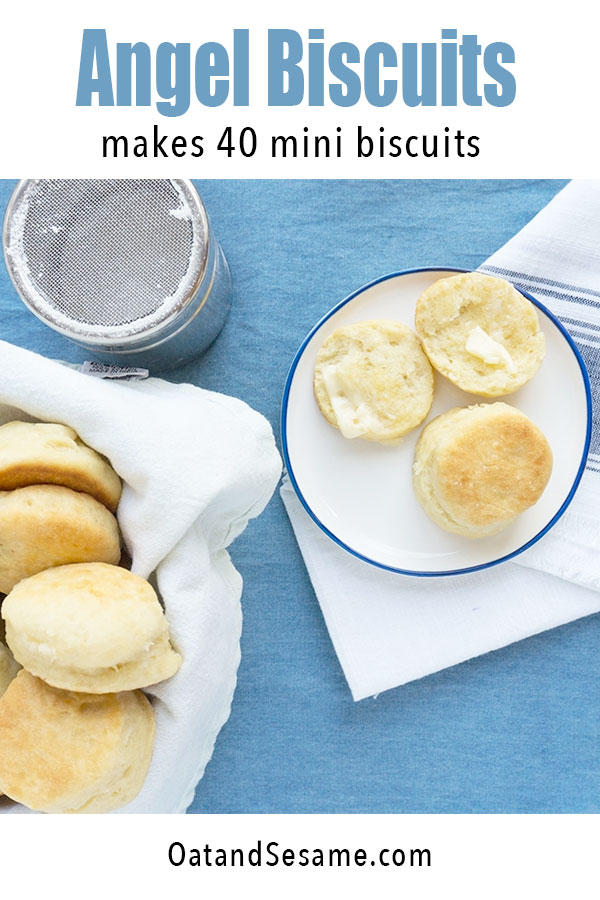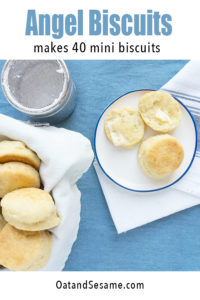 PIN IT!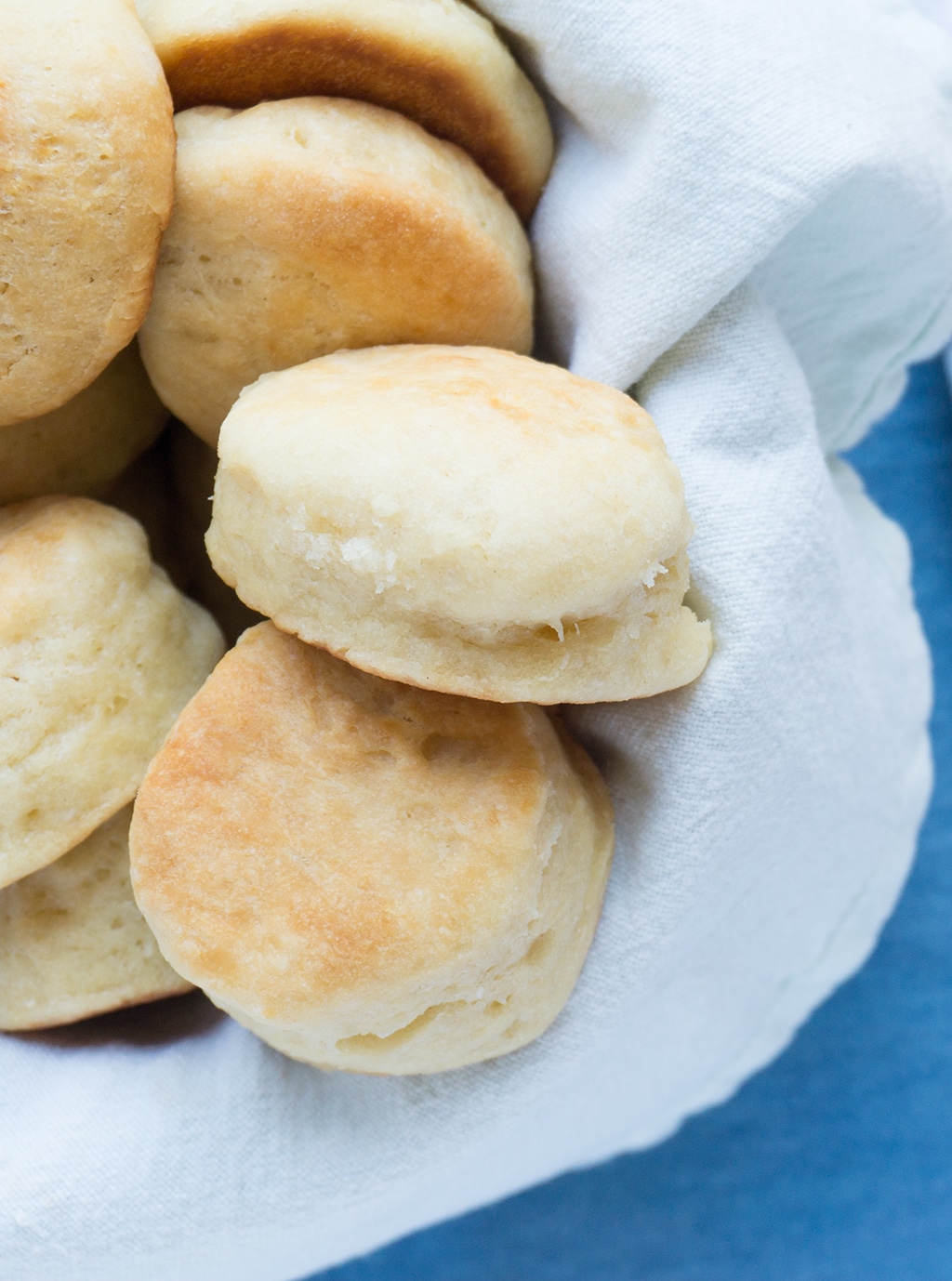 ---
---
A few notes about Angel Biscuits:
make-ahead dough (stores up to 1 week in fridge + gets more flavorful with time)
freezable and equally delicious when defrosted
feeds a massive crowd
not technical at all – a perfect start for new bread bakers
use any small glass – I used a shot glass – to cut these out if you don't have a mini biscuit cutter
---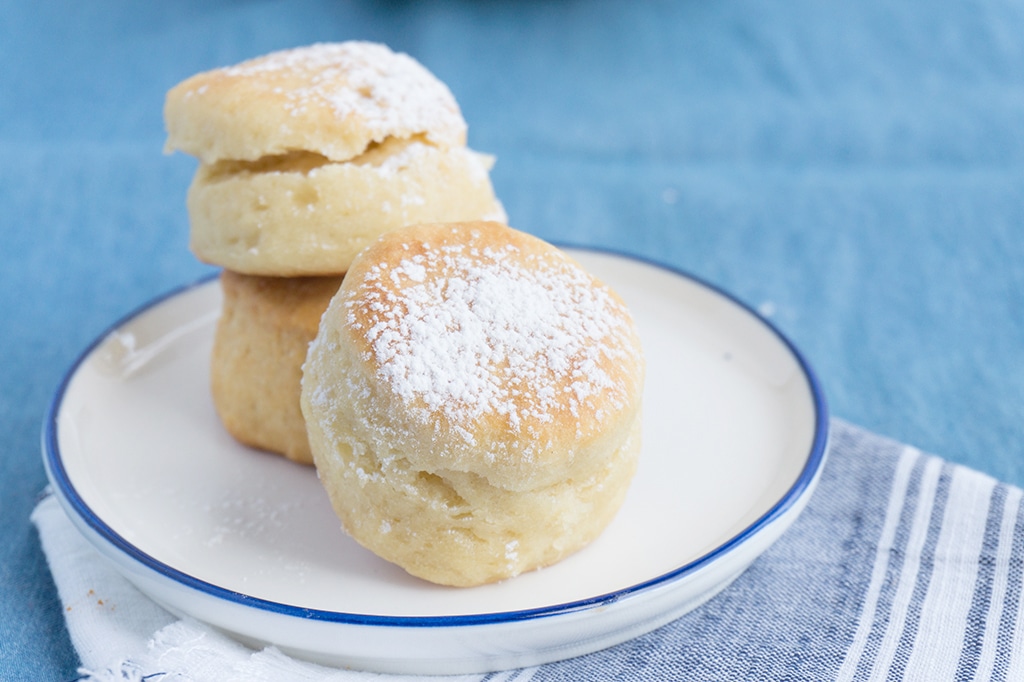 ---
These biscuits are perfect for holiday gatherings. Since they are mini, this Angel Biscuit recipe makes enough biscuits for a crowd and are small enough that you won't fill up on bread – because we all know dessert is on the menu!
---
Follow me on Instagram, Twitter, Facebook, and Pinterest for more recipes!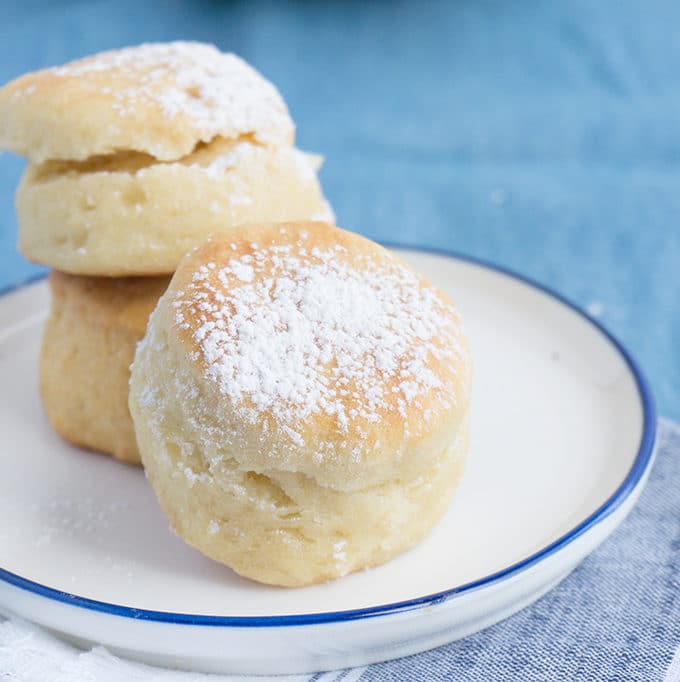 Angel Biscuits - Soft Mini Biscuits
These easy biscuits are soft and fluffy. The recipe makes a lot of these mini rolls, but you can freeze them as well!
Ingredients
1

package active dry yeast

2 1/4 tsp

¼

cup

granulated sugar

3

Tbs

warm water

110-115 degrees F

5-6

cups

self-rising flour

store-bought or homemade mixture in notes

1

tsp

baking soda

½

tsp

salt

½

cup

shortening

cut into ½" pieces and brought to room temp

½

cup

salted butter

cut into ½" pieces and brought to room temp

2

cups

buttermilk

room temp
Instructions
Dissolve the yeast and sugar in the warm water in a small bowl. Set aside for about 10 minutes.

Whisk 5 cups of self-rising flour, baking soda and salt in a large bowl. Break the shortening and butter into pieces and toss with flour.

Work in the flour by rubbing your fingers together as if you're snapping your fingers until it looks like crumbly feta cheese.

Make a well in the center of the flour. Stir the yeast mixture into the buttermilk and pour the mixture into the hollow center. Stir it with a wooden spoon pulling flour in from the sides, until a shaggy, slightly damp dough remains.

Flour a working surface and turn the dough out. Knead with floured hands, folding it in half and pushing it out, continuing until it's nice and soft to the touch. About 10 minutes.

You can choose 3 options to proceed with from here: 1) roll, cut + bake the biscuits, 2) cover dough in a well oiled bowl and let the dough rise for a lighter biscuit or 3) store the dough in the fridge and use as needed, within a week. In my video, I cut the dough in half – 1 to bake immediately and 1 for the rest of the week. If you refrigerate the dough, bring to room temp before baking.

When ready to use, divide the dough in half. Roll out into a ½" thick rectangle. Fold again and roll out to 1" thick. You'll eventually repeat this with the 2nd half as well.

Dust your biscuit cutter in flour, cut biscuits without twisting the cutter. Move to a greased baking sheet and let double at room temp – 30 to 40 minutes. A good place is in the oven with the oven light turned on to keep it slightly warm. Sometimes my oven light makes it too warm, so make sure to check on it.

After the biscuits have risen, preheat oven to 400F. Bake biscuits on the middle rack for 10-12 min, rotating halfway through, until golden brown. If the bottoms start to brown too fast, you can slide another baking sheet underneath the current one as added protection.

Remove from oven, brush with melted butter. You have the option to dust them with powdered sugar (as Angel Dust). Or for a little twist, brush with butter and sprinkle with a spicy mix (for Devilish Dust).
Notes
Angel biscuits can be frozen, but should be baked first, then frozen. They reheat just perfectly.
Adapted from Southern Biscuits by Nathalie Dupree and Cynthia Graubart.
Homemade Self Rising Flour: The basic ratio for making your own self-rising flour is 1 cup all purpose flour, ¾ tsp salt and 1½ tsp baking powder. You would need to multiple these amounts by 5 to reach the amount of self-rising flour needed in this recipe.
Nutrition Facts
Angel Biscuits - Soft Mini Biscuits
Amount Per Serving (1 g)
Calories 120
* Percent Daily Values are based on a 2000 calorie diet.
Some great biscuit cookbooks for the biscuit lover!
More biscuit recipes here!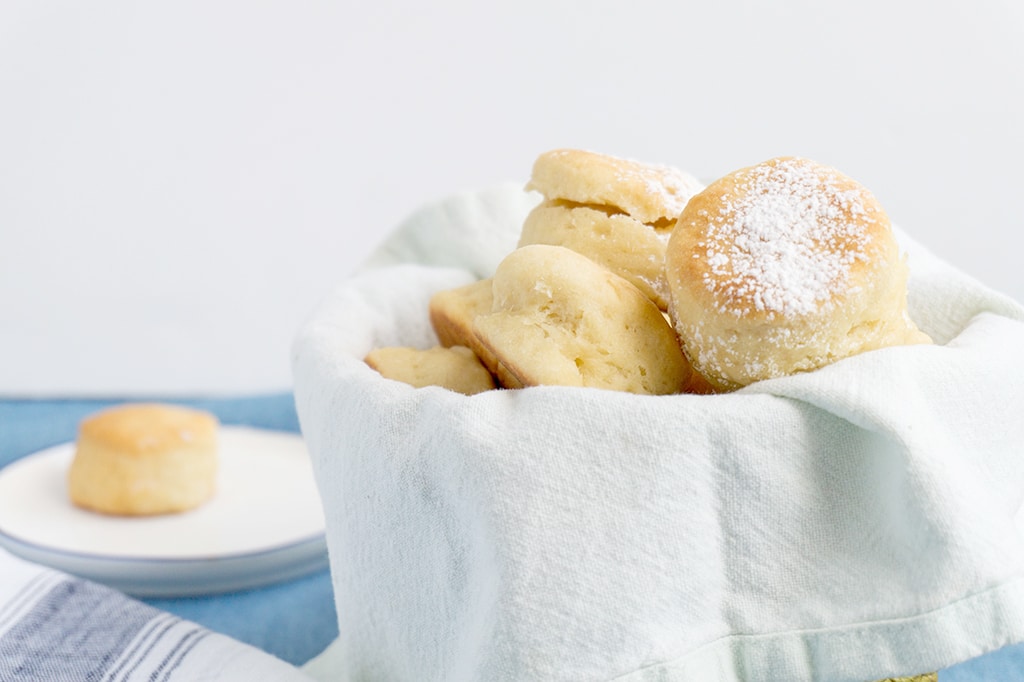 More Biscuit Recipes