A plant based black bean and rice bowl with a tropical twist! Mangos, lime, peppers, avocados, cilantro and golden beets give this healthy dish tons of flavor! When it's time for a light summer lunch – think Tropical Black Bean & Rice Bowls!

The other day I really wanted black beans and rice. With inspiration from some mangos on my counter, I created these Tropical Black Bean & Rice Bowls! So delicious we made it twice in a row!
These bowls combine my most favorite beets – the golden ones – with juicy fresh mango, cilantro, black beans and roasted poblano peppers. You may even get some picky eaters to eat beets since the golden ones look just like mango pieces!
The best part is that this recipe is completely plant based and it goes quite well with a fruity margarita!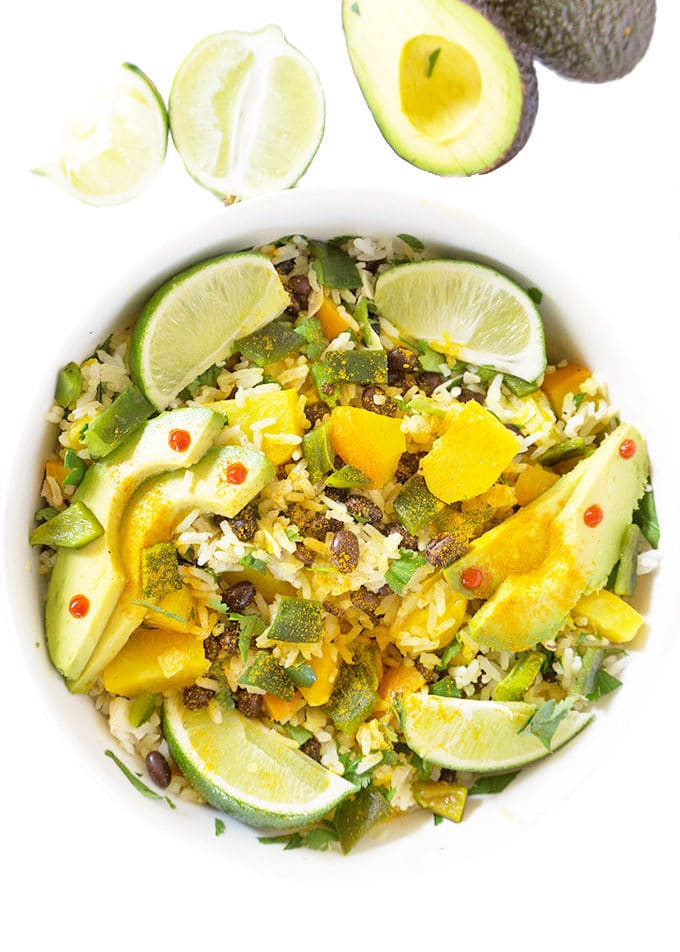 CHEERS to a healthy week ahead with healthy food in bowls!
Tropical Black Bean & Rice Bowls
Ingredients
6 small golden beets, roasted, peeled and cubed
2 poblano peppers, roasted, peeled and chopped
1 cup (dry) jasmine white rice or brown rice, cooked
¼ cup unsweetened coconut flakes
pinch of salt
1 can black beans, rinsed
2 ripe mangoes, peeled and chopped into bite sized pieces
2 ripe avocados, sliced
1 bunch cilantro, rinsed and chopped
2 limes, sliced in to wedges
salt to taste
turmeric, sprinkle on top
sriracha, optional for topping
Instructions
Wash and trim the greens off the beets. Wrap in foil and roast at 400F for about 60 minutes depending on the size of your beets.
While the beets are roasting, prepare your rice and roasted poblano peppers.
In a medium saucepan, bring 1 cup of rice and 1.5 cups of water to a boil. Adding a pinch or two of salt.
Turn the heat to low, add coconut flakes to the top layer and cover. Approx. 20 min for white and 30-40 for brown followed by a 10 minute rest off the burners. (Follow the package instructions for your rice of preference.)
Next roast the poblanos on a gas cooktop with tongs over an open flame. Turning with the tongs as each side blackens - the whole process should take about 3-4 minutes per pepper. (You may also roast these in the oven on a rimmed baking sheet alongside the beets - the cooking time will be much shorter than the beets)
Once blackened, place peppers in a sealed container - tupperware or plastic bag - seal and let rest for about 10 minutes. Once cooled, remove the peppers, peel off skin and chop.
Prepare all the other ingredients: rinse beans, chop mangos and cilantro, slice the avocados and limes.
Combine everything into a large bowl except for the avocado which should be place on top of each serving.
Liberally squeeze with lime juice and a sprinkle of salt and turmeric.
Top with an extra lime wedge. Squeeze of sriracha optional.
Notes
*I also like to squeeze the pit of the mangos to get any extra juice into my rice bowls!
---
>>Great Sale Prices on Non-Toxic, Natural, Organic & Eco-Friendly Products at MightyNest.com
---